A particular aspect of living at the Jersey Shore is the abundance of food markets. Within a twenty mile radius we have our choice of mega-grocery stores, multiple "health" food shops, farmers markets, specialized boutique marts, and some of my favorite haunts—ethnocentric markets.
Shopping at our local Asian market, the SM Food Market in Middletown, NJ is like Wonderland to us. Some items are quite familiar while others, like the container of live frogs can be a surprise. I wonder how they get the frogs to stay still long enough to weigh them….
We also find new-to-us fruits and vegetables. Such as the big green alien Jack fruit, above, that made it's way onto our we'll-try-it-someday list along with durian fruit and some other special items.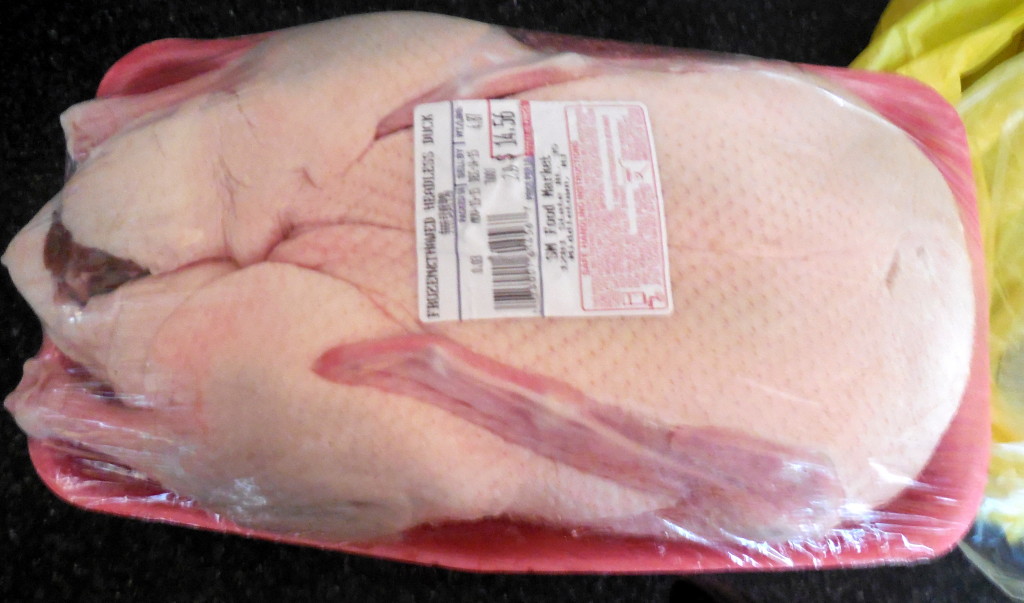 We were in the market for a duck. In this case, according to the label, a headless duck. Glad for having that information front and center. The recipe we were planning to prepare didn't include a duck-head anyway, so no harm no foul. Yup, I went there…
Ditching the live frogs and jack fruit, we brought home that headless duck. We also bought bok choy, fresh ginger, bean sprouts, and those gorgeous, lavender-colored Japanese eggplants.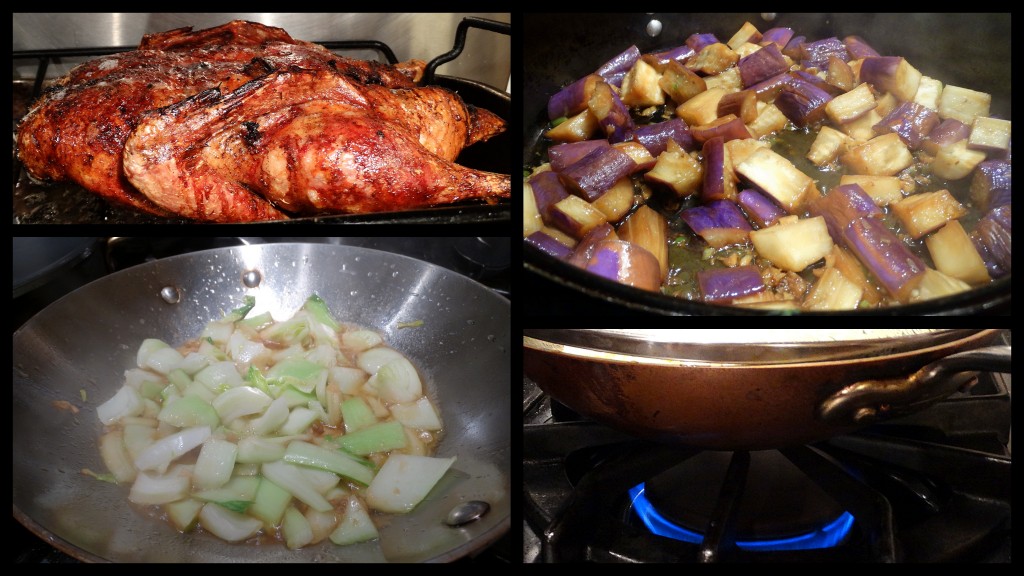 Back home-on-the-range, the bok choy went into a wok with garlic, ginger, rice wine vinegar, and a touch of soy sauce. The eggplants were sauteed with the same aromatics. The duck went into a hot oven.
A little more tricky than cooking a chicken, but so worth the effort.
Growing up on Long Island, where duck farms were once ubiquitous, that might be where I acquired the taste, but I love the stronger gamey depth and natural pungency that comes from duck meat.
During the summer months we like to barbecue a duck on the grill because it imparts a smokiness that misses in the oven.
The pretty but mushy eggplant was garnished with crunchy beansprouts and chopped scallions. The scallion adding a little bite to the dish.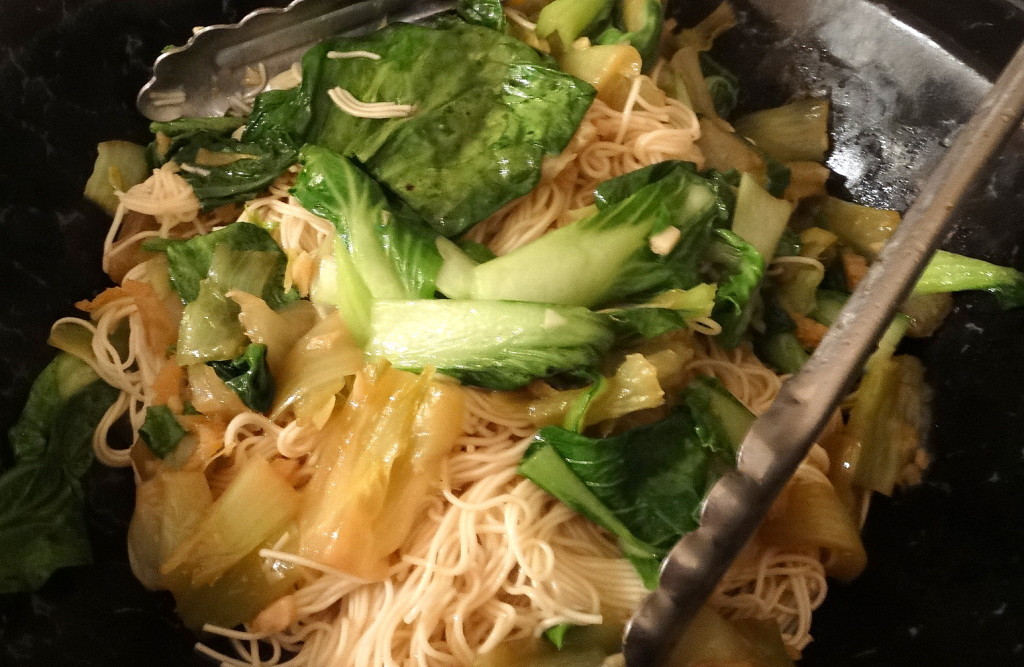 Fresh ginger perfumed the bok choy which we mixed with rice noodles. I could eat a bowl of this alone and be a very happy person. It's just that satisfying.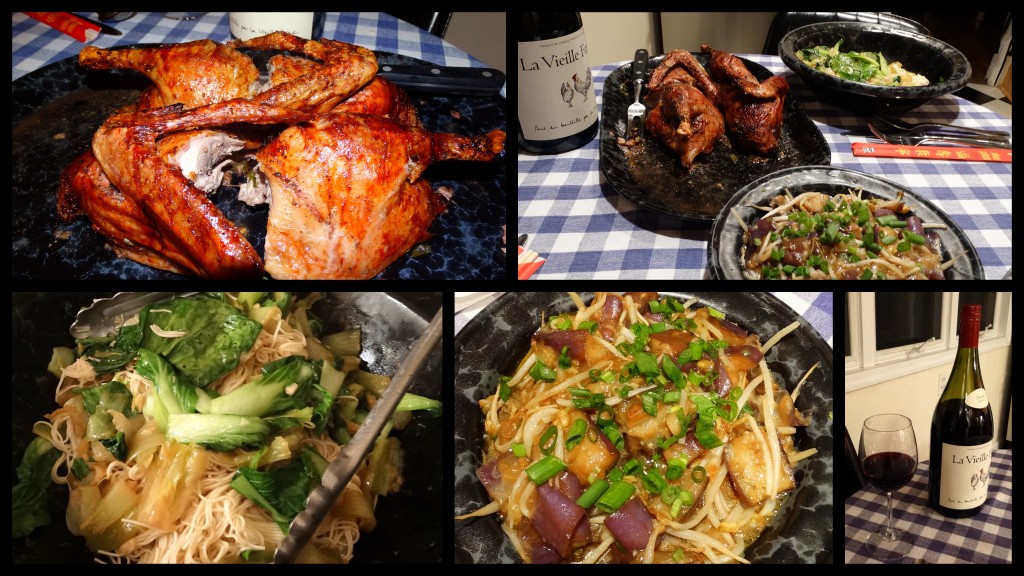 Don't be shy when it comes to shopping in an ethnic market. You're likely to find someone there who is happy to help you find what you're looking for.
Advance preparation might make you feel more in control too. Reading a cookbook or some recipes on line can also be a useful tool before embarking on an adventure into the world of unknown foods.
Although the atmosphere might be no frills, the prices tend to be considerably lower in an ethnic market.
The duck we purchased was half the price of the D'artagnan ducks at our other local markets. Does food taste better when you know you didn't over pay? Not really, but we tend to find satisfaction in knowing that we did our best to procure and prepare a fantastic meal on a shoestring budget. In the end though, finding new flavor profiles and using new ingredients in your recipes is what the art of cooking is all about.