"Patience is a virtue, Possess it if you can, Seldom found in woman, Never found in man." This quote from an unknown source about sums up many of our dining experiences.

In our little town of Red Bank NJ, the Front Street Trattoria has been an innovative standard for many years. In the 24 years that we have lived in this area, we have had a bit of a tug of war with this restaurant. The realization set in that our problem was not with the food. It is the wait for the food.
Now that our children are grown and we are not concerned with how fast we can get them fed and out before all hell breaks loose, I am looking at some of my old favorites with new eyes.
The Front Street Trattoria is worth the wait, so be virtuous, and if you can, be daring as well. The appetizer above, a large serving of brushcetta is covered with creamy melted gruyere cheese, embellished with sweet roasted pear slices and little jewel-like cubes of roasted parsnip. It is drizzled with creme fraiche and a balsamic reduction. Served on a bed of chopped kale and surrounded by tart little cranberries. It is heaven on a plate. This is a dish that would bring a Thanksgiving Day dinner to new, gourmet heights.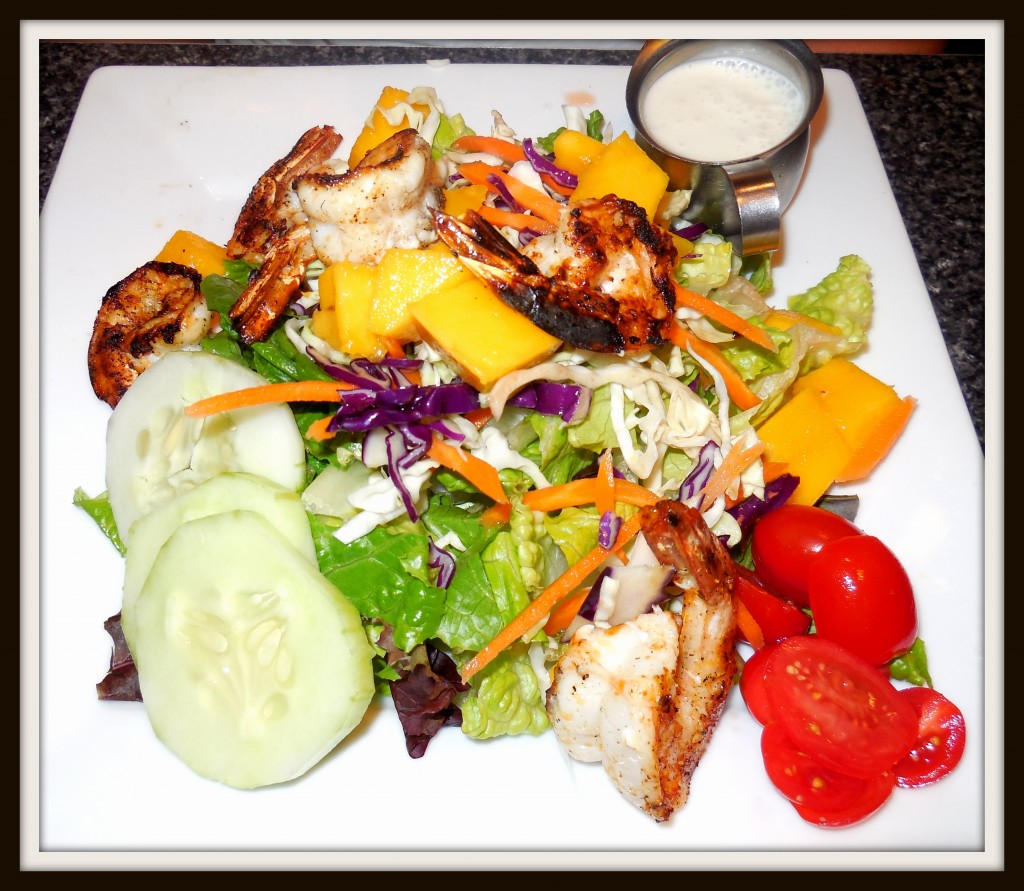 The Thai Shrimp salad was nicely spiced, full of grilled shrimps, and sweet mango's. It was fresh and delicious.

It is this salad, the Mediterranean Platter that brought me back again. Order it as an appetizer and share with others, or have it for dinner like I did and bring home the left overs for lunch tomorrow. Shown in components, this is the dish that makes me happy for weeks on end. In the center is a little ramekin of ricotta, dressed with balsamic glaze and parmesan chips. Dip the foccaccia bread in and swoon…yes, it's that good. The roasted beets are sweet, the tomato, fresh corn and calamata olive salad is salty and sweet, and the grilled artichokes are perfection themselves. The soft, creamy, fresh mozzarella forked up with a bit of the roasted red peppers, well, to say I heard angels singing might be a little exaggeration,  but it is all so good. Nothing on this plate comes from a can or box. It is just an outstanding dish to enjoy on a warm Spring night.
There is a reason that some restaurants last and others don't. This old style Italian eatery is worth getting to know, just bring a bottle of wine and be patient.