There is something very old school romantic about a cloth covered table and low lights. Add to this a bottle of wine, delicious comfort food and someone you love, and voila, it becomes a special night.  For some of us, we need to find that romantic dinner where and when we can. One of my favorite restaurant's to unwind and catch up in is Puglia in Red Bank, NJ.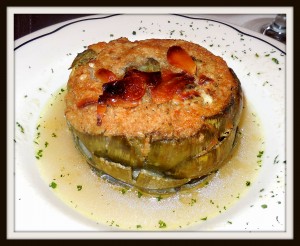 The aroma of garlic permeates the air and is present in the artichoke appetizer I have come back for time and again. Full of flavorful breadcrumbs, sitting in a bath of silky broth, it is a personal favorite. Plucking off a leaf and then scraping your teeth over the edge, well if that isn't a prelude to other things, I don't know what is.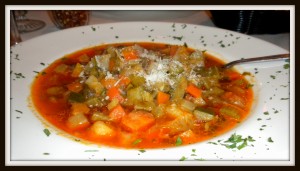 Minestrone soup was the appetizer my husband opted for (unusual because he is a true carnivore). Full of fresh vegetables in a savory broth. Soul satisfying at any time and good for you.
   Entree courses ran to the red sauce variety. He chose the lasagna. As you can see, it is creamy, gooey and slurp-able. Just what you want in this traditional dish. I chose the shrimp parmigiana, a long time favorite. Yummy shrimp coated in fried goodness, cheese and perfect marinara. The spaghetti is always, and was again last night al dente. It kind of thrills me that they get it right every time. 
  I have written about Puglia before, for Red Bank Green. You can read that post here. Puglia still makes a killer Mulberry Street pizza. When I find myself missing my New York roots, and craving authentic New York style Italian food, I am happy that Puglia moved into town. It isn't too difficult to get a table weeknights, you might however want to call for a reservation on the weekend. An added bonus is that parking on this side of town is still free and plentiful.
Now you know one more quietly kept secret in Red Bank. Tell only your very best friends.