Perhaps it's a full moon, or maybe hell has indeed frozen over, because I am going to review a chain restaurant today. Brick House Tavern and Tap in Neptune, NJ is remarkable and worth a mention.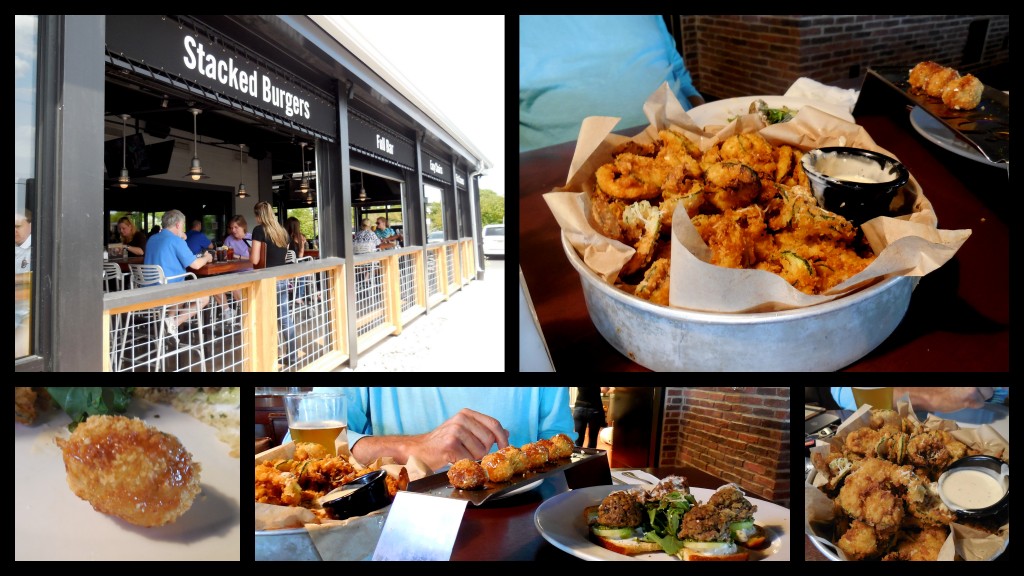 The space is huge, industrial in style and ridiculously comfortable. The seating areas, consist of lots of bar space, including long high tops to accommodate large groups. There is a giant screen with theater seating, banquette style booths they call sofa's and open air seating. In spite of all the seats, I fully expect them to be busy enough that people will wait in line for a table.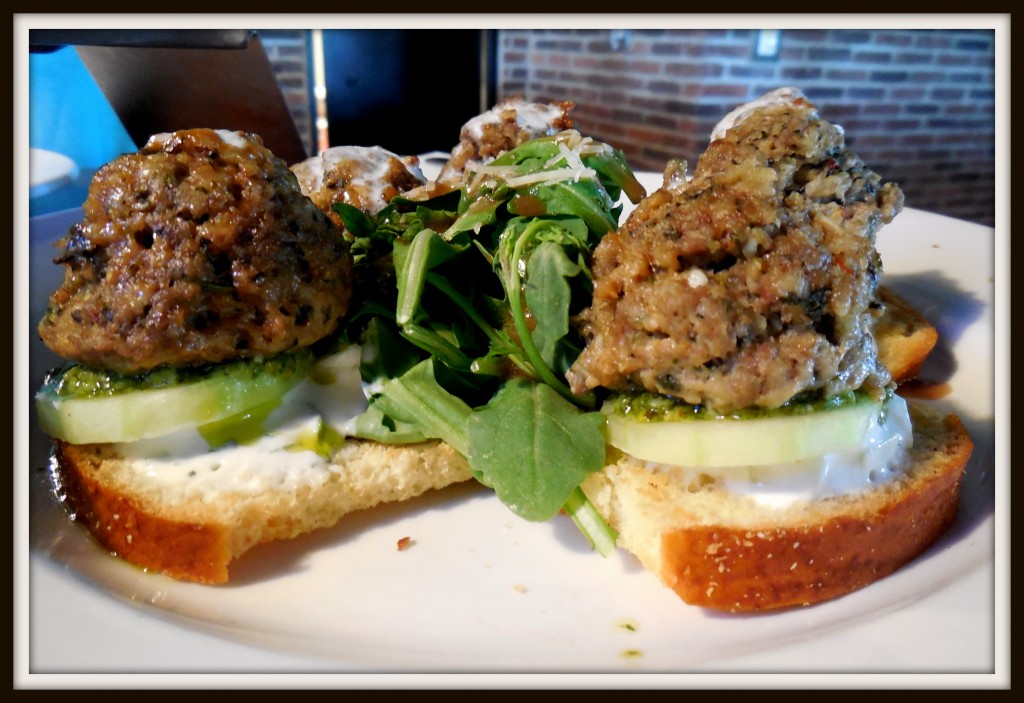 The menu is affordable, the bar, well stocked, and the bar staff have been enlightened. They know how to serve a beer in its proper glass. Did someone go to Europe and return with notes on how to run a bar properly? I'm thinking maybe they did.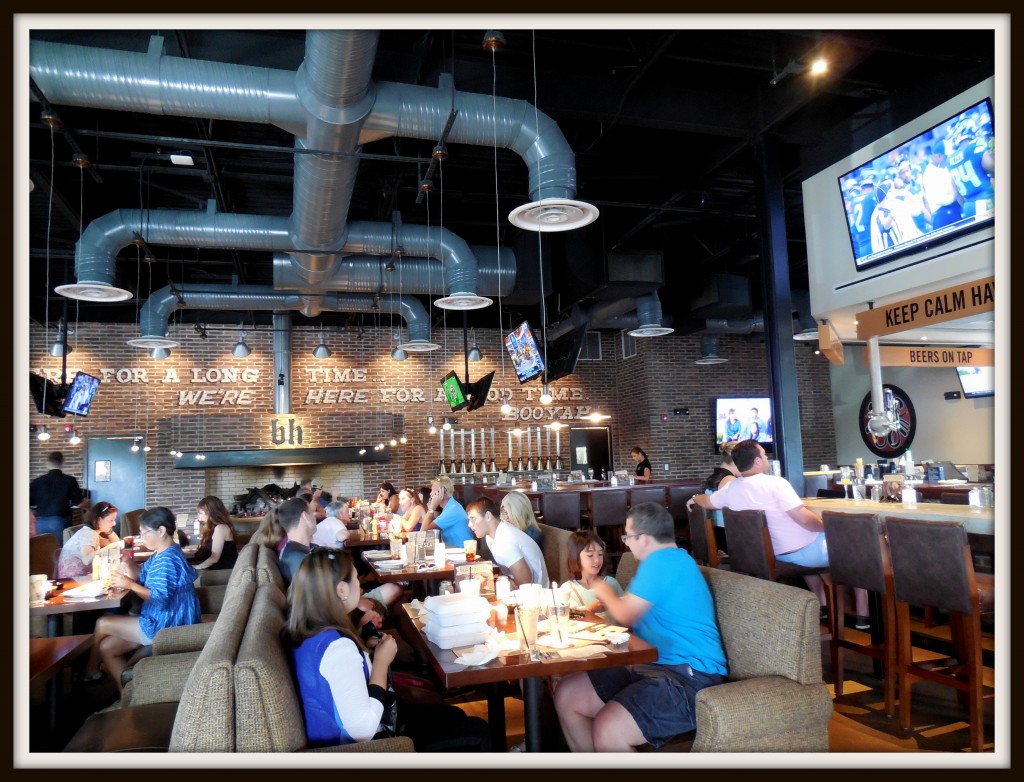 The food is the reason this place will be busy. The menu is refreshingly innovative. Wanting to try several items that I haven't seen on a menu in quite a while, we opted for a few appetizers. The first, a platter of Greek Keftedes Meatballs, was divine. A riff on a gyro and a kefta kebab, the meatballs, made from a lamb and beef mixture were juicy and had just enough lamb flavor to identify them as such. The mint cucumber tzatziki with a creamy tang of goat cheese, was exciting to the palate, but the garlic and crunchy crostini with the fresh slice of cucumber, made this dish rock. I want to say I will order this again, but it will be a while. There are other meatball dishes on the menu to taste.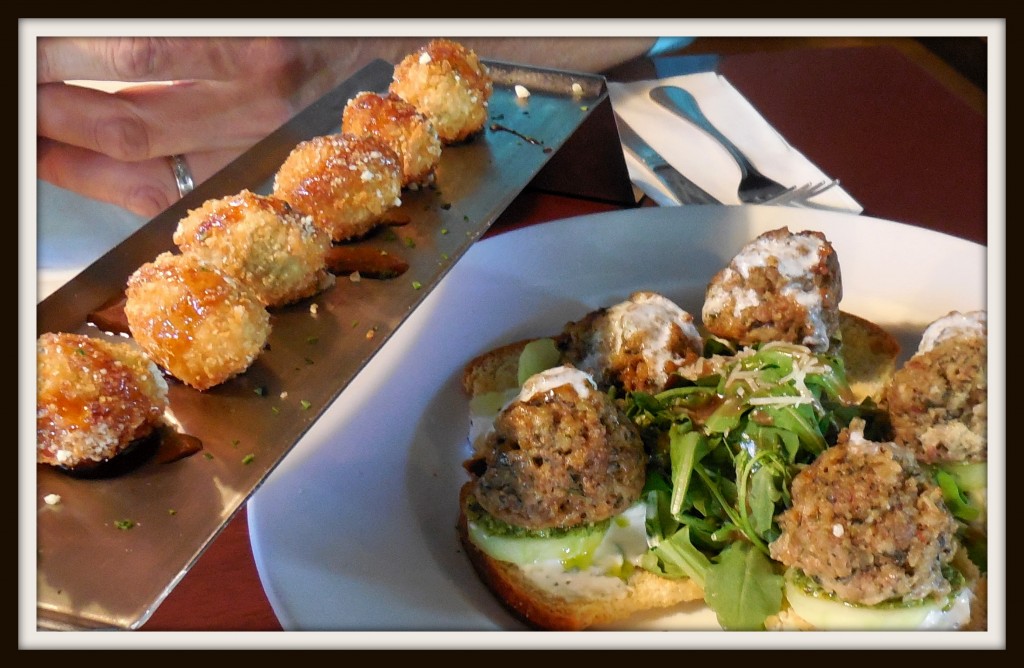 The other two dishes we ordered were the Fried Stuffed Olives, seen above lined up like drunken soldiers, and Zucchini Curls. Let me say up front, I will diet for weeks  and walk several miles a day, just so I can order fried bar food and not feel guilty. The olives are interesting in taste, texture, and presentation. Looking like tiny glazed footballs, these little bites are stuffed with spicy sausage and a hint of cheese. Salty, crunchy, and spicy, they are just plain fun to eat.
The Zucchini Curls are served in a large, round, anodized pan. It is a huge helping of fantastically crispy squash made decadent in its preparation. My only problem with this dish is that it is accompanied by a tiny bowl of what is supposed to be a sriracha ranch dressing. Not only did I have to request a second bowl of dipping sauce, but it was more ranch and less sriracha. This is a vegetable that screams for a more assertive dip. Something with personality, like a horseradish, grainy mustard sauce instead.
For those who like a good pub experience, mixed in with culinary adventure, this is a terrific place to try. A cold beer and your favorite bar food is pretty close to Nirvana on any given day but particularly after a day of shopping. Oh, and did I mention how close this place is in proximity to the outlets?