What's a food writer/photographer to do when she's invited to a special party at a four star restaurant? Guest or no, it's no longer in my nature to leave home without the extension to my arm some call a camera. And the celebrity of the evening, our hostess, didn't blink an eye when her personal paparazzo showed up prepared to shoot.
My very good friend Susan Davis, author, physical therapist to humans and the animal kingdom, fantastic foodie, and occasional martini sipper had a milestone birthday. I'm bringing you along for the celebration.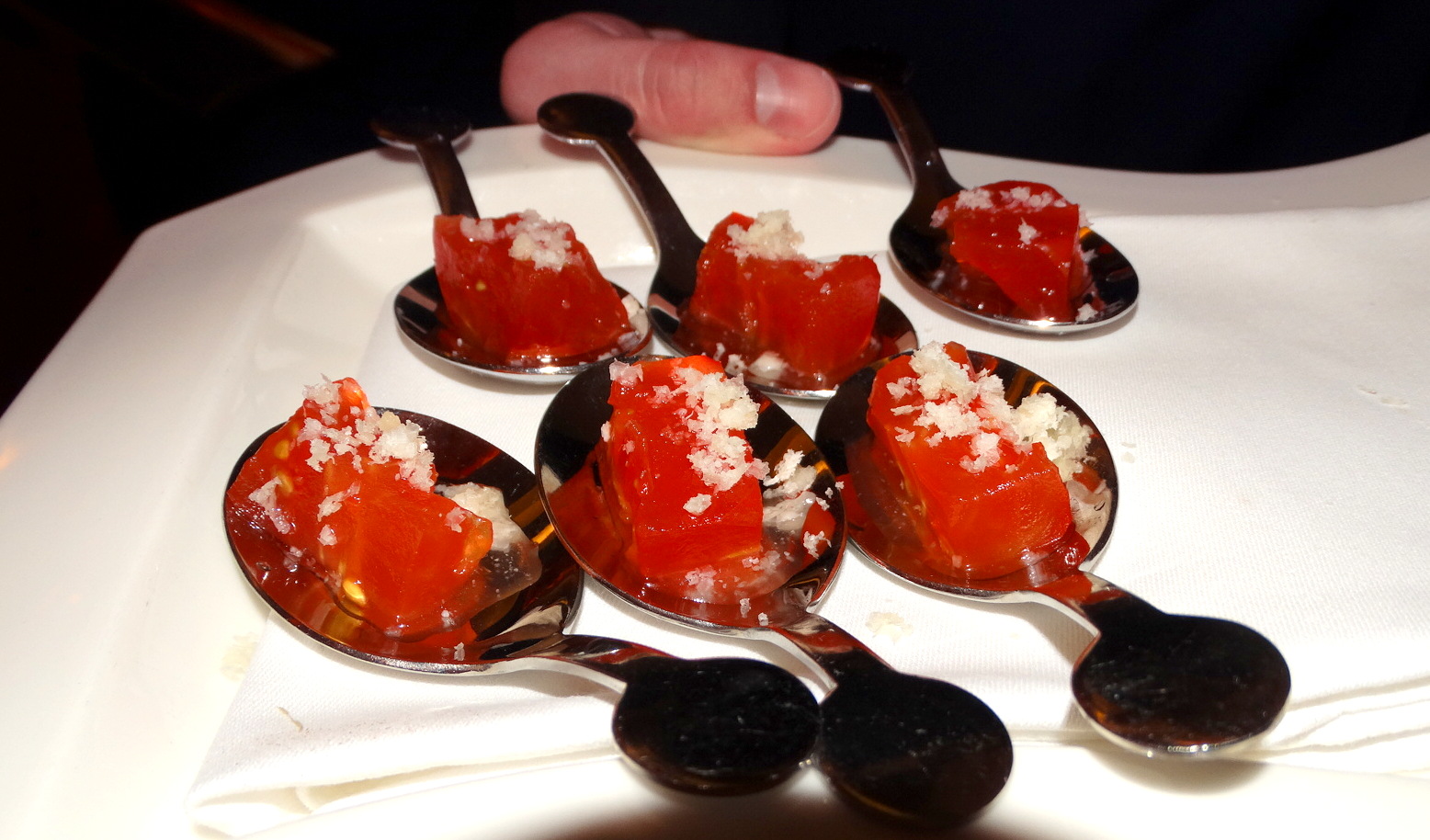 Restaurant Nicholas in Red Bank, NJ is elegant. It is thoughtfully appointed with furnishings that personify the disposition of owner and staff. Comfortable, polished, and competent sophistication but with an air of serenity.
Passed hors d'oeuvres were splendidly simple. A cube of in-season tomato (seen above) infused sweet basil and sprinkled with chunky bits of salt had big flavor. Also in the savory bite surprise camp, was a demi size cup of corn bisque, a roasted beet nugget dressed with chopped pistachio presented on a goat cheese smeared spoon, and a faultless seared sea scallop. Minuscule gougere, puffed pate a choux often used for profiteroles, were given a savory cheese treatment but were a little underwhelming, compared to the other options, but I loved the concept of them.
Appetizers of the evening were inspired. A dish of sea scallops served to the woman on my right disappeared the second this photo was snapped. The gemelli-like house-made pasta saturated with a bright parmesan and pignoli flecked pesto was one I'd like to eat again. Asparagus served with a portobello mushroom ragout disappointed. Those very thin asparagus that we are seeing in the market are newly planted and without the earthy flavor of an established plant. I found the ragout so subtle that it lacked perspective to the point of being bland.
When our server asked if I preferred my filet mignon medium rare or medium, I wanted to stop time. It was a moment of perfection in gastronomic history. No one should order a filet rare or well done. It's just wrong. Most self respecting chefs weep at the thought of ruining a good cut of beef due to lack of knowledge. The medium rare filet on my plate was entirely flawless and impressive.
As a rule, I will order chicken at most continental style restaurants. The ability to perfect a chicken recipe requires skill and good timing. A mushy or mealy textured chicken is inexcusable. The texture and flavor of the roast chicken here was a cut above most restaurants in the area. Juicy, tender and delicious reminding me of how chicken used to taste before bio-science started producing frankenfowl.
All of the entrees at Restaurant Nicholas were impressively arranged on interesting dishware. The halibut playfully propped on fresh peas and the pork chop featured on a bed of black eyed peas and pole beans.


Everyone seemed to love the ceiling in the room, embellished with Murano style blown glass platters made by Jersey native Robert Kuster. Reminiscent  of a Chihuly exhibit we saw in Seattle, it was a treat to enjoy a good meal and good company under such an exquisite art installation.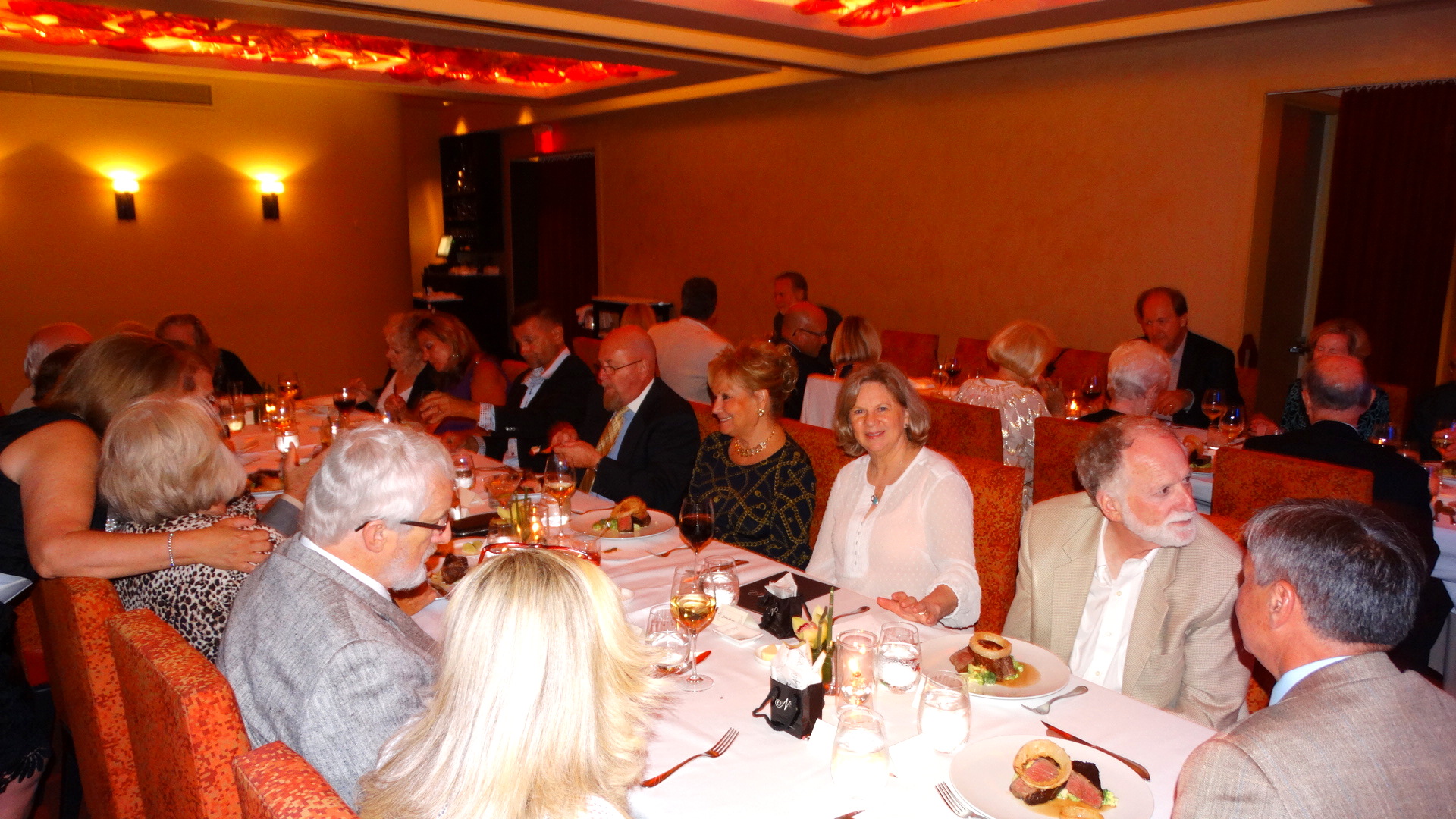 No party is complete without dessert, and a birthday party should always have a birthday cake. The adorable childhood silhouette of Sue, a work of art in itself, was a sweet and decorative vintage nod to her special day.
Giving us the full Restaurant Nicholas experience, dessert, in addition to the birthday cake was a refined arrangement of four distinctly different treats.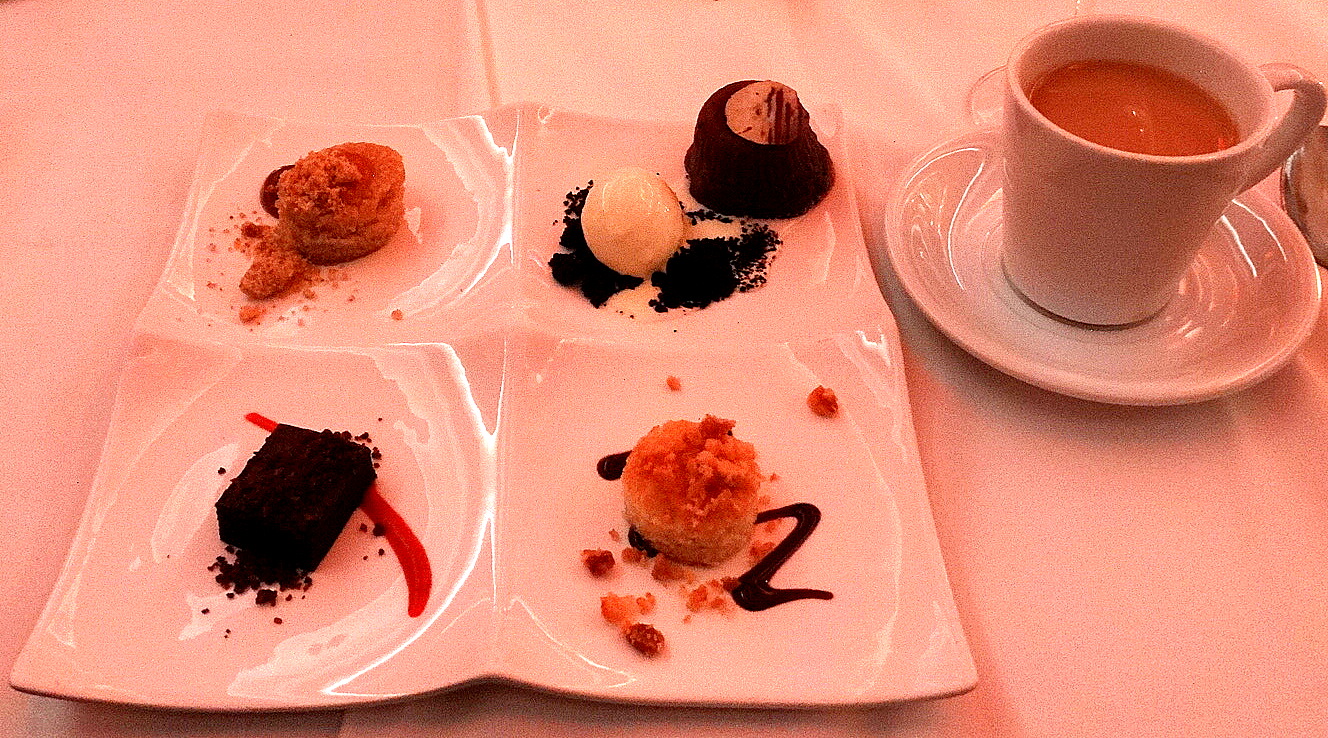 The miniature chocolate lava cake and ice cream quenelle paired perfectly with the last few drops of Pinot Noir in my wine glass. Rolling the flavors on my tongue, warm chocolate, cool vanilla, and berry scented red wine, it occurred to me that I will forever hold all other lava cakes to this expectation.
Significant, the four stars earned by Nicholas Harary's restaurant are proof of hard work and education in a field that more often than not is permeated with mediocrity. His determined dream, his work ethic and passion for excellence is a gift to all who have the opportunity to dine at Restaurant Nicholas.
Wishing Susan Davis one more Happy Birthday, it is no surprise that she chose this venue for her celebration. One identity seeking perfection in all she does found a similar visionary in Mr. Harary.