When is a collection not a case of hoarding? Recently, I found a group of fellow cookbook collectors on facebook. They call themselves The Cookbook Junkies. Like me, this is a group of cookbook aficionados who have amassed or are in the process of putting together collections of cookbooks. I think everyone has their own reason for what appeals to them, but it can be rewarding and comforting to find like-minded compatibility.
Currently on my desk, two cook books found at a library sale a few weeks ago are being used for research. One, for a unique southern recipe a friend has been looking for, and the other, a simpler version of a recipe I have been wanting to try for years.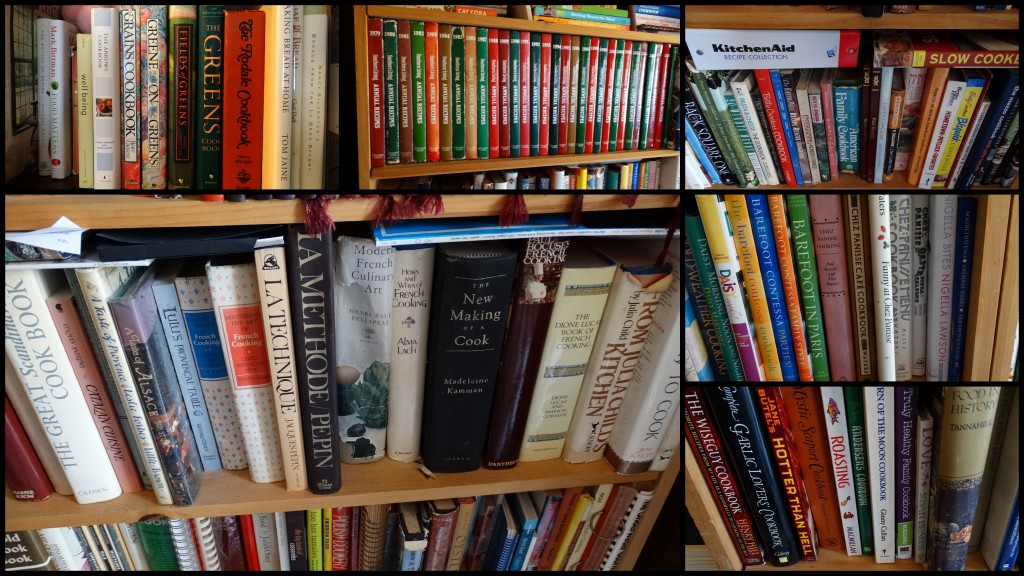 When we renovated our kitchen, fifteen years ago, we left one long wall bare. On purpose. We wanted to fill the wall with bookcases to house an ever growing cookbook collection. When you have a passion for something, and become a collector, people love to gift you with new items for your collection. We have been gifted with cookbooks.
Over the years we have added regional tomes and food specific books. A wonderful source of cookbooks in our area turned out to be yard sales. Many people around here took to heart the concept of less is more and had boxes and stacks of cookbooks that they received as gifts set out at their garage sale for a buck or two. Less expensive than a magazine. The sales that tugged at my heart strings the most though were collections of recipes, many hand written, some cut from newspapers and magazines, thrown into a plastic zip-loc bag and thankfully set out on a table to sell. There are just some people in this world who don't cook. Some don't have much interest in food. It is the food historian who finds these items and adds them to collections.
Part of my collection contains cookbooks from long gone New York City restaurants. Restaurants that dazzled me no end as a child. The Cookery in the Village with their unique-for-it's-time cuisine, the ever popular Mama Leone's, and Russian Tea Room…wonderful memories all. My tenth birthday was spent at Trader Vic's which at the time was under ground level to the Plaza Hotel. The cookbook found years later became a souvenir of that day.
Some of my favorite cookbooks include the history of a group of people in addition to the recipes. The Cuisine of Italian Jews is one of those fascinating stories that gives you a sense of what the culture was like going back in history.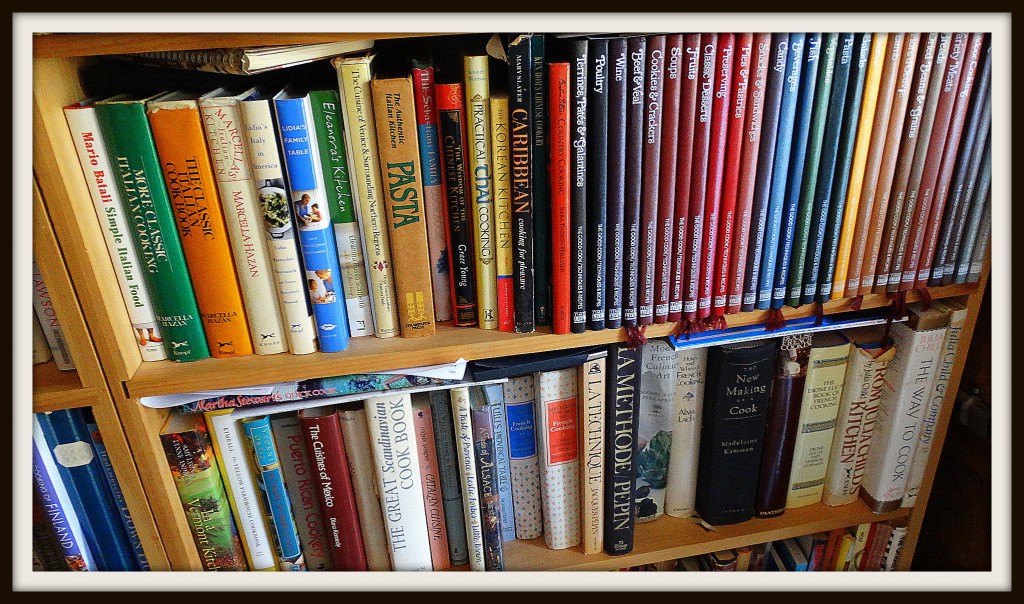 Hoarding? I think that some collections can become unwieldy at times. Sometimes we need to consider the relevance of a collection. When you put together a group of items for a specific purpose and hold it in esteem, it becomes more of a form of art. No, not hoarding. That said, we all move forward in our lives and the reason I am contemplating our vast collection is that we are considering down sizing to a smaller home. Smaller home will without doubt mean less space for cookbooks. It may be time to sell off part of this collection.
The Face Book group, Cook Book Junkies can be found here. If you have a passion for cookbooks…it will be like finding long lost family.