It seems that each generation has been given a name, or a letter, or maybe a number to classify them into specificity. There are however, certain things in this world that we can hold universal. Whether a person is six or sixty, they will still like a good piece of cake. They may argue over what cake they consider to be the best, but they will all come to the table for something delicious with promise. To that end, I bring you a recipe for simple and tasty with the option of embellishment.

There are a few cookbooks in my library,( I have to admit to having a rather large cookbook library) that I turn to over and over again. Sara Foster's Market Cookbook never disappoints. Her recipe for Cream Cheese Pound Cake is perfection itself. With a website full of wonderful recipes, it is worth the visit. Before the advent of recipes on line, I was using her cookbook, and still find myself pulling it down off the shelf time and again. It is a valued tome for recipe suggestions when entertaining a crowd or just for a delicious evening meal.
  
This was the group of "twenty-somethings" I was aiming to impress. They loved the cake. I knew the would, and I was quite sure that if it were a group of gray-haired church ladies or a convention of tattoo artists they would have enjoyed it too.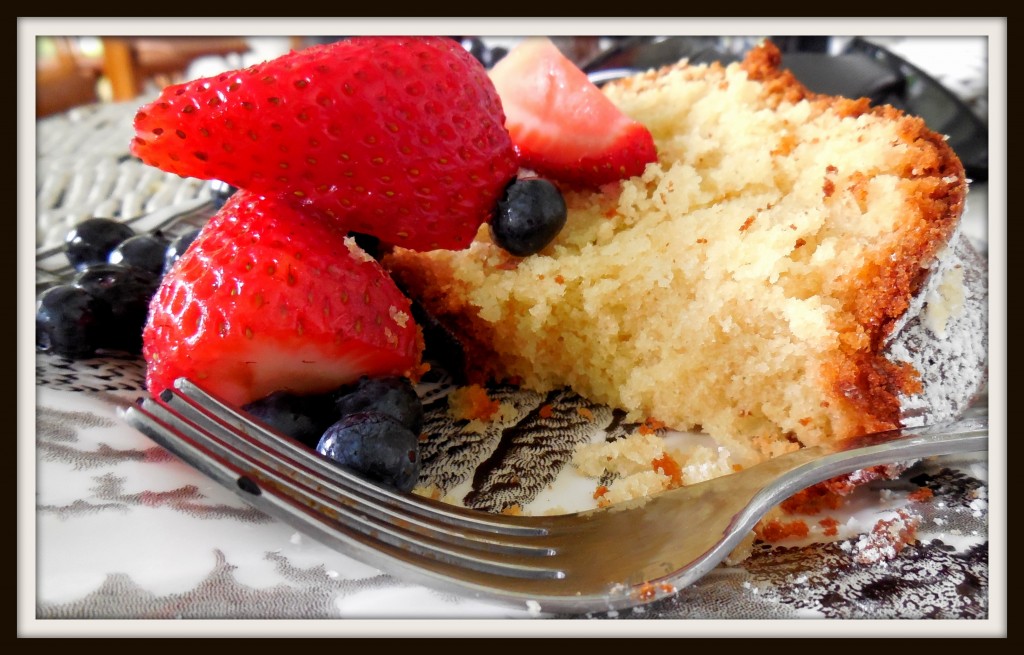 Easy to make in advance and freeze, this is the cake to have around for quick entertaining. It is great with chocolate chips and a little cinnamon added to the batter. It is also good with nuts or fruit added. Keeping it simple though, opens your options for embellishment…the sky's the limit. Whipped cream or ice cream, fruit in season, hot fudge and a cherry on top, or sauteed pineapple or banana's…it is a perfectly sweet blank canvas. Bake this, then let you inner Monet come out to celebrate it.
Thanks to Sara Foster for a killer recipe that I will continue to use over and over again. If you are considering a cookbook as a gift for someone, buy this one. It has never let me down.
Cream Cheese Pound Cake
This rich, dense cake keeps well and freezes beautifully. Try it with fresh peaches, sorbet, ice cream or fruit compote
Serves 10-12
3 cups all-purpose flour
1 teaspoon baking powder
1/2 teaspoon baking soda
1/2 teaspoon salt
One 8-ounce package cream cheese, softened
3/4 pound (3 sticks) unsalted butter, softened
3 cups sugar
6 large eggs
2 teaspoons pure vanilla extract
1. Preheat the oven to 350 degrees
2. Grease and lightly flour a 10-inch bundt pan and set aside
3. Sift together the flour, baking powder, baking soda, and salt in a bowl and stir to mix. Set aside.
4. Cream together the cream cheese, butter, and sugar in a separate bowl with an electric mixer until light and fluffy.
5. Slowly add the eggs, one at a time, beating well after each addition. Add the vanilla and mix until well blended.
6. Add the flour mixture to the butter mixture and beat just until the dry ingredients are moist and blended. Do not overmix.
7. Pour the batter into the prepared pan and spread evenly. (Note: The batter will be very thick.) Bake 1 to 1 1/4 hours until the cake is golden brown and a toothpick inserted in the center comes out clean.
8. Remove from the over and cool 20 to 30 minutes in the pan. Turn the cake out of the pan and continue to cool on a baking rack.variations: You can also add spices – up to 2 teaspoons total – such as cinnamon, cardamom, nutmeg, or allspice, to the batter. Try lemon or almond extract instead of vanilla; fold in chopped dried fruit or nuts, if desired. One cup sour cream can be substituted for the cream cheese for a slightly different taste and texture.