Looking for all the world like little green space aliens, kohlrabi is in season and easy to find at your local farmer's market right now. Don't walk by and ignore it because you've never tasted or used it in a recipe. A member of the brassica family, the versatility of this vegetable alone is worth a whirl in the kitchen.
It can be fried, roasted, used in a stir-fry or eaten raw in a crunchy fresh salad. Kohlrabi has a mild flavor that falls somewhere between broccoli and cabbage. Like a bit of a blank slate, it's boring. But with a few well chosen ingredients that you can also find at your green grocer, farm market, or just the humdrum supermarket, it can be turned into a lively side dish.
Like Coleslaw with an impressive middle name, this kohl-rabi-slaw (see what I did there?) brings sweet and sour flavors and serious crunch.
We ate it as a side to a Bell and Evans chicken cooked on the charcoal grill. Made spicy with a glazed barbecue sauce of vinegar, honey, Chinese hot chili sauce, red pepper flakes, and chopped garlic. With a smokey, sweet, heat going on, this is not your Grandma's Sunday roaster.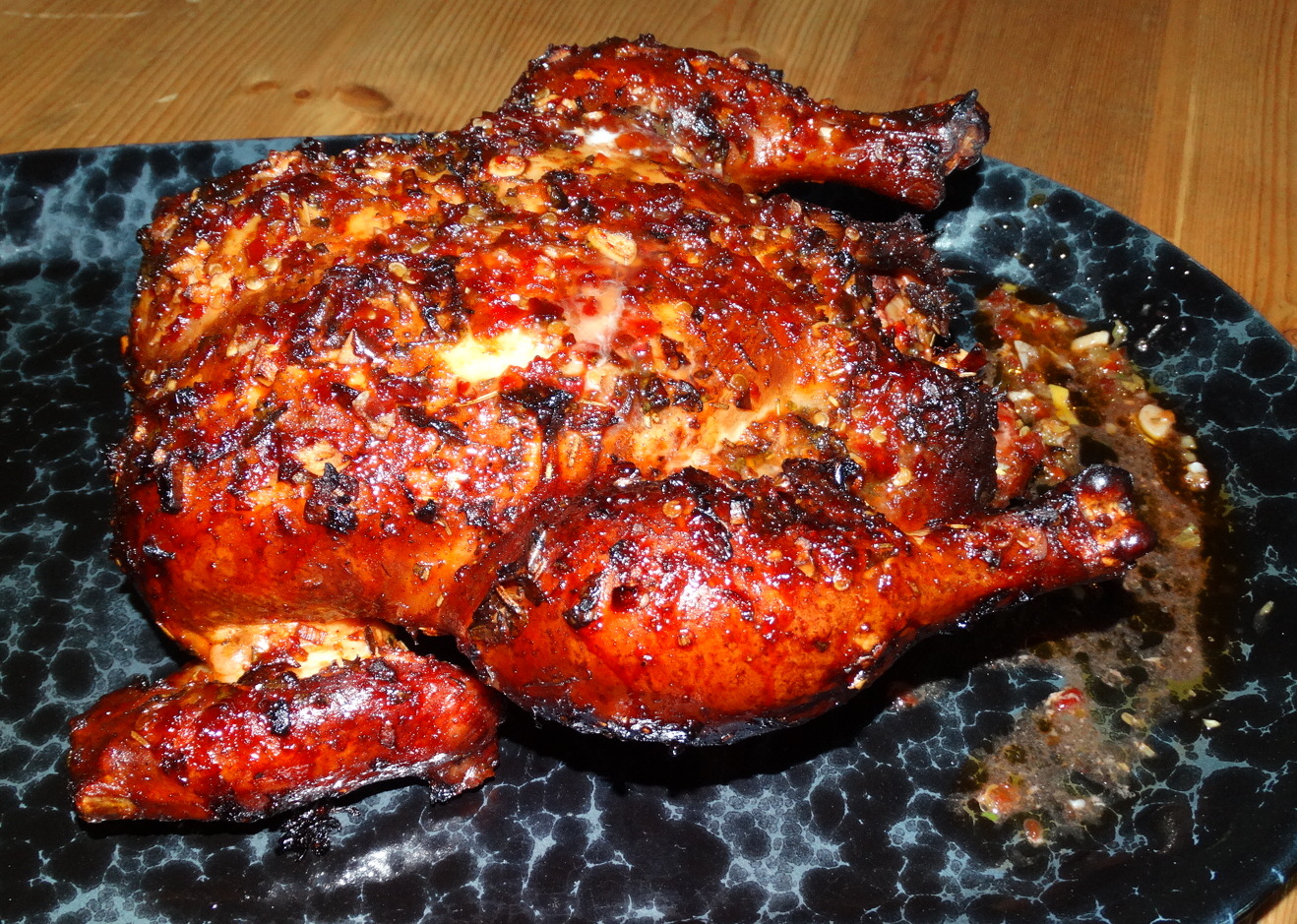 The much tamer slaw side dish is kid friendly but you might not want to tell them what it's made from. Then again, some kids might love the idea of eating an "alien" vegetable.
Since hot summer weather is on its way, and because you want to impress friends, family and strangers who show up at barbecues, you should make this slaw. Also, you should make it because it's delicious.
Ingredients: 4 kohlrabi
                        2 raw beets (I used one red and one Chioggia or candy cane)
                        1 large (or 2 smaller) carrot
                        1/4 cup raisins
                        1 cup mayo (I used Hellmans)
                        1/4 cup honey (use good honey like tupelo or blueberry)
                        1/4 cup apple cider vinegar
                        Tsp each salt and ground pepper
Method: Peel the kohlrabi, carrot and beets, chop in big chunks and grate in food processor or by hand.
Blend in separate bowl mayo, vinegar, honey, salt and pepper.
In large serving bowl mix together the dressing and slaw, then blend in the raisins. It will seem like your slaw is not wet enough, but the vegetables leach out a bit of liquid. Taste it, then add more salt and pepper if you feel the need.
When you present your salad, make sure you throw out names like kohlrabi and Chiaggia (the beet) with a straight face. The hungry masses will thank you for being such a knowledgeable cook.
Next we'll be discussing those beets and how you can use every little tiny bit of them.