Cookman Avenue in Asbury Park is becoming legendary for it's incomparable and ever-changing restaurant scene. So what makes our latest find on this street so remarkable? Everything about Happiness Restaurant, a Chinese American bar and grill is interesting. From it's kitsch decor to it's decidedly retro menu, this place is as hip-as-they-come and twice as much fun!
The Barbie meets Hello Kitty style fun-house with it's pretty-in-pink bar/counter top is as inviting as a run through the lawn sprinkler on a steamy hot day. The Jasmine tea served in little china tea cups reminds us of Chinese restaurants of yesterday. But better. Complimentary tea is lovely, soothing even, and a hint of what's to come. Wish there was a gypsy around to read those tea leaves.
Order a drink here. The throw-back beer menu might be hipster heaven, but to some who just remember the options fondly as what used-to-be, it is a slice of nostalgia. Cans of beer at $2.50 a pop have sentimental old names like Busch, Genesee, Keystone, Old Milwaukee and more. The wine choice of red, white or sparkling at $7.00 a glass is worth every penny. I tried the sparkling and was not disappointed.
You know in the end if the food isn't good, the place won't last. But here's the rub; the food is better than good. The chef's have taken those tried and true Chinese recipes that Americans crave and added a we-can-do-it-better spin. The Nom Nom Bowls, they call an "Ancient Chinese Secret" (so cute!) are either fried rice based or noodle based stir fries. I am so glad we ordered the noodles if only to see that they believe in longevity or long life noodles. Those noodles were easily two to three feet long. The stir fried vegetables come in your choice of shrimp, pulled duck, chicken, pulled pork, tofu or just vegetable.
We ordered the pulled duck. Stir fried bits of broccoli, onion, and those tiny corn on the cob pieces were mixed with the noodles and succulent bits of duck. I'm not sure there is a dish more fun to dip your chop sticks into than this one. It was comfort food with a side of awe when we pulled the noodles up to see just how long they really were.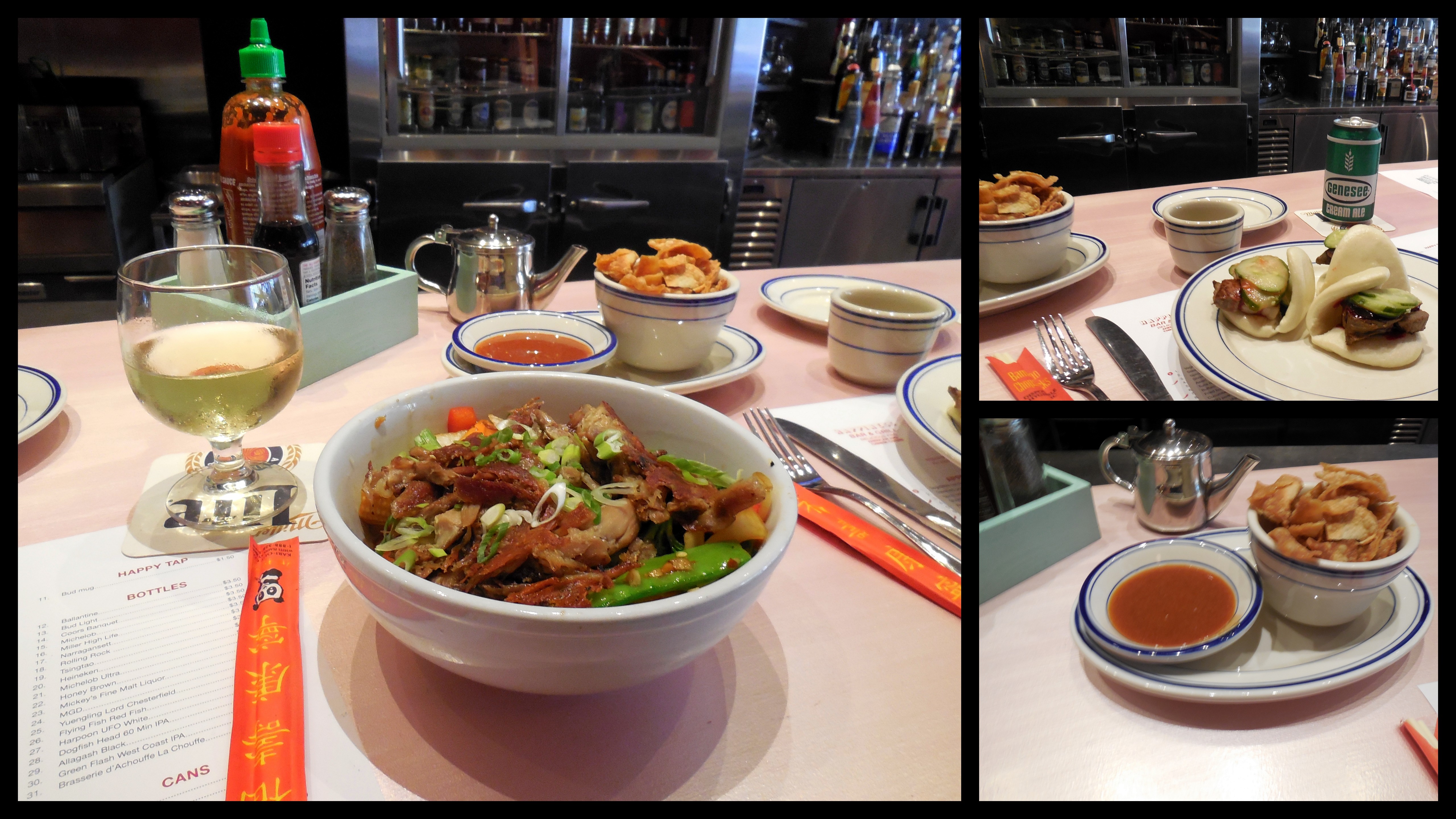 The order of BBQ pork belly baos didn't disappoint either. Tender, fatty, and juicy the pork belly was sitting in the middle of a most perfect pocket of ethereal simplicity. It's like biting into a cloud covered burst of hedonistic pleasure.
Did I mention the in-house fried noodles with sticky citrus flecked duck sauce that also comes to the table (or in this case counter) complimentary? Words can't express how happy all of these dishes made me.
As you'd expect to find in a place as happy as Happiness, the staff here really does aim to please. They couldn't be cuter or nicer. Seriously good food, made by clearly experienced chefs. What could be better? An open kitchen, so food loving customers can sip their drinks while watching the chefs in motion. I want to say it didn't get any better than this, but then it did.
A bowl of divine banana fritters was set down in front of us. Little puffs of beignet-like banana laced bites drizzled with warm caramel sauce. Yeah, the chef's here know their stuff. This is just the kind of dessert that sticks in your mind and doesn't let go. Flavors mix and mingle in these fritters without be cloyingly sweet. I would return just for this dish alone.

The guys sitting next to me were having a great time too. Happiness Luncheonette does indeed exude happiness in its own whimsical way. In a world filled with worry and strife, this is the place to seek out for good comfort food, cheap beer and wine, and terrific company. It totally lives up to its name! We're coming back to try the Fish Bowls (mixtures of boozy, share-able delight) and spicy dishes next.