Graze Restaurant: The newest culinary offering from Chef Laercio Chamon had its debut last night and by all indications, this place is hot.
 
Once, pastel-painted walls and a decor that couldn't seem to decide whether it was high-end-tacky or relaxed-suburban-country when it was Zoe an American Bistro, is now completely transformed.
Rustic barn wood siding warms the walls and the restaurant spanning banquette now melts into the background. The effect is at once farmhouse-chic with an air of glamorous comfort, and completely appropriate to the well thought out menu.
Don't let the comfortable decor fool you. The service is impeccable in this BYO eatery. We brought a bottle of champagne and a bottle of red wine. Appropriate glassware arrived at the table along with a container to keep it properly chilled. Informative professional service is what you can expect here.
A stuffed squid appetizer (seen above) is devoured in a nano second. Tender squid tubes filled with among other things, bits of pork belly left us agreeing that we'd be happy to order the dish again. Big props for the included tentacles too.
Coxinhas: Brazilian chicken croquettes — the chef's mothers recipe, I'm told — are perfectly crisp on the outside and creamy in the center.
Diversely textural, the sous vide cooked chicken is as tender as a marshmallow inside with a wicked-crisp crust.  The accompanying corn pudding should come with a glowing halo because it is everything right-in-the-world in a ramekin. I'll be needing that recipe for Thanksgiving this year.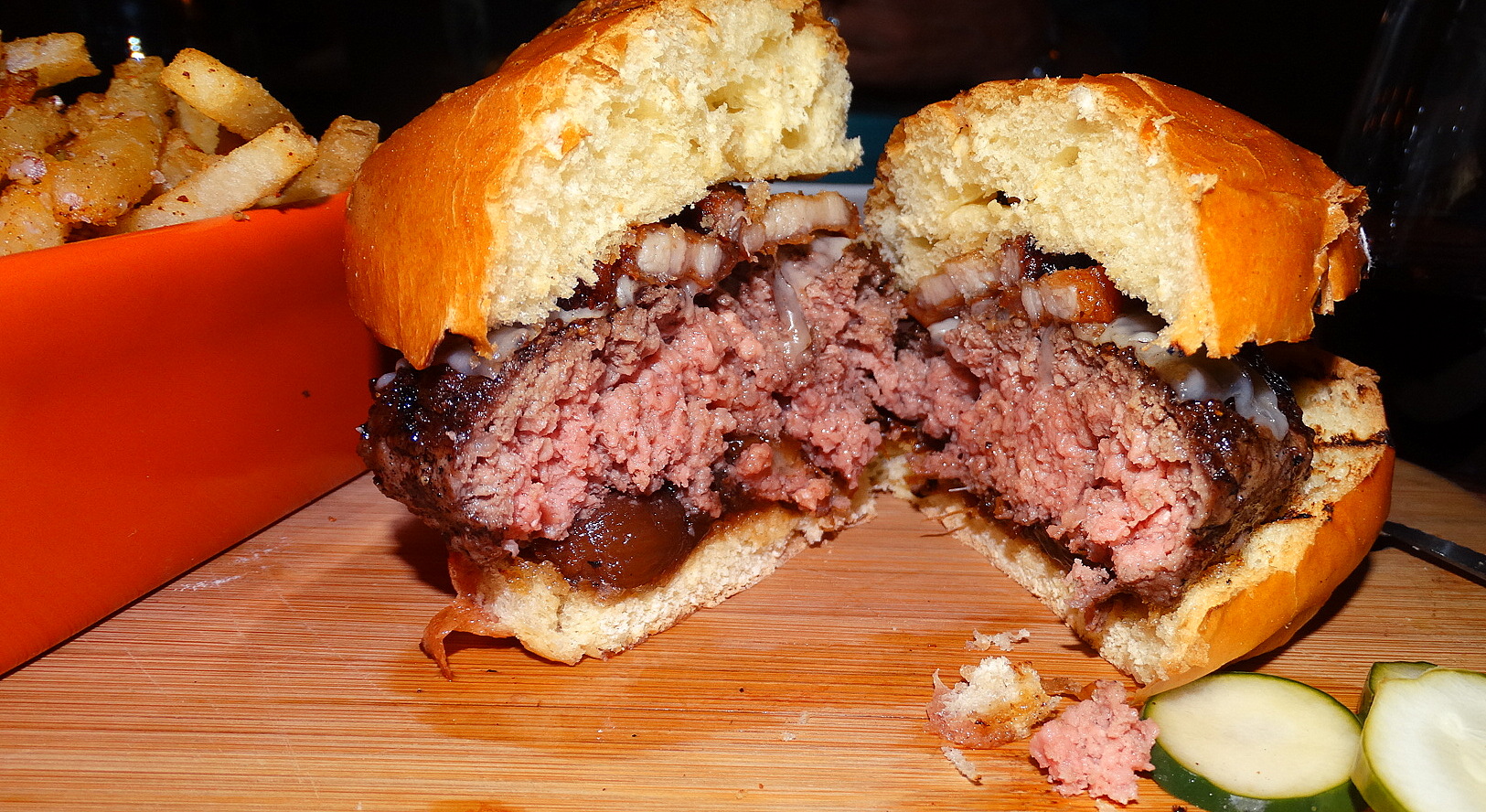 And then there is the blended burger; changing it's delicious stripes nightly. NY strip and filet were the juicy ingredients with a pork belly embellishment to the top. House made pickled cucumbers and a big batch of Cajun fries filled out the board this meal was served on.
In the Markham Street shopping center on Prospect Street in Little Silver, Graze Restaurant sits central. There is however, no signage yet so it's very much like dining in a secret eatery.
Chef Junior, as he's known to his friends, has a unique flair for inventive cookery. Seeking out the best, locally raised and grown ingredients, like any master-craftsman he continues to delight and awe those of us who truly appreciate a good meal.
Graze Restaurant is currently open for dinner and reservations are suggested. More interesting stories about this chef can be found in: Eating Clyde and in this article about Zoe.
Call for reservations: (732) 747-9988