My palate is stuck in Paris…while my body is still happily enjoying what we call local summer at the Jersey Shore. This is the moment when most of the tourists and summer denizens have gone back to where-ever-they-live and the traffic returns to something we consider normal. After living here for a quarter of a century I can attest to the fact that this is truly a time to rejoice. But why are my taste buds wishing to hang out at a true Parisian café?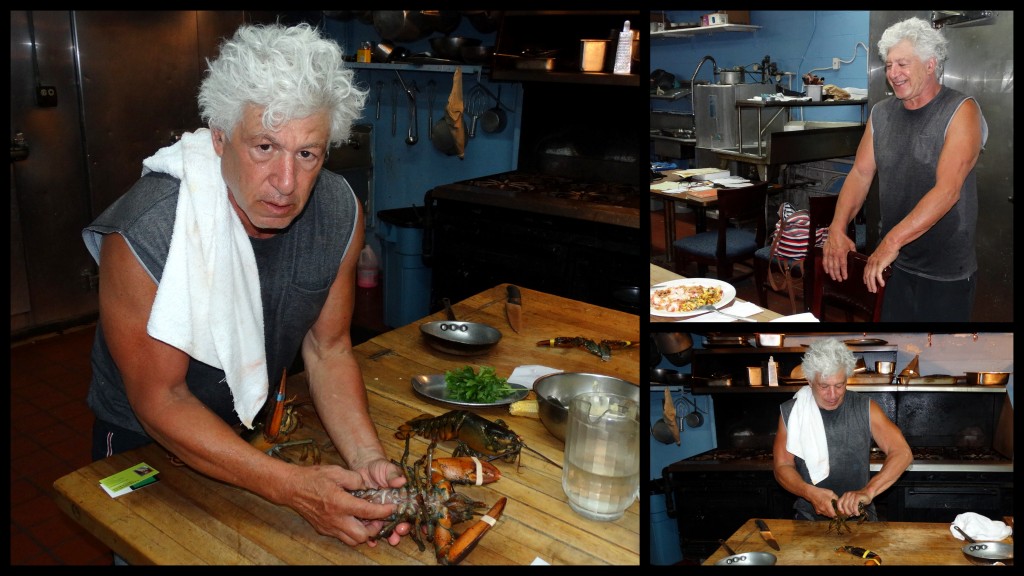 I blame Lou Jacoubs, owner and chef at Harry's Lobster House in Sea Bright. Working on a story where they actually pay me to write, it was my pleasure to be introduced to this old-fashioned, La Varenne educated chef. He exudes joie de vivre when it comes to talking about and demonstrating classic French cooking. For a few hours I had the feeling that I was back in France. After tutoring me in lobster anatomy, and then ripping apart said lobster bare handed, he discussed the concept of à la minute and time-honored techniques in French cooking.
The dish he prepared was out of this world. I ate every bit of the lobster broiled under a blanket of buttery croissant crumbs.
It was the antediluvian kitchen though, the one that suffered through a Hurricane Sandy filled bath of four and a half feet of sea and river water that had me mesmerized. The mammoth twin Vulcan cast-iron stoves and the worn butcher block had me pining for my Dad's ancient bakery kitchen. A place who's atmosphere screams — I've been around the block more times than you and I have a story to tell.
Chef Lou is fearless around the ingredients he prepares. He has plenty to say; great and somewhat salty stories of learning to cook in France and growing up in Sea Bright. Luckily, he will be teaching more classes.
A second assignment took me to a fortuitous stop at Antoinette Boulangerie. As authentic a patisserie as you will find at the Jersey Shore, this bakery is in Red Bank. Owner Ayca User, along with her sister Zeynep-User Ozdemir have turned an old bank cum skate board shop into a Parisian delight. Sitting at the worn oak table while sipping an iced coffee I had the pleasure of discussing town issues with Ayca. A sample of a blueberry and orange spongecake filled with pineapple mousse and topped with mango infused gelatine was a heavenly lunch. Yup, food writers eat cake for lunch sometimes.
Rounding out a French themed early autumn moment, I was treated to brunch at Pascal and Sabine in Asbury Park. We often opt out of our peninsula'd environment on weekends and Cookman Avenue has lots of restaurant options, but it was Bangs Avenue where we wound up. Pascal and Sabine had a delightful French themed brunch menu. The service is first rate.
It was my husband who suggested we go all in for traditional French cafe fare when he ordered escargot and a sesame and sea salt croissant. It's been a long time since either of us enjoyed such perfectly executed snails. Broiled in the just-right amount of butter and garlic, the tender, juicy snails were inhaled and the croissant was put to good use sopping up every bit of sauce.
It's not gay Paree, but je suis replete, and happily so. I was asked this week if I thought that maybe there are too many eateries at the Jersey Shore. Ne sois pas idiote! Don't be ridiculous….there could never be too many places to eat. Not when they're turning out such delectable food! Around here it just keeps getting better and better.
Harry's Lobster House on Ocean Ave. in Sea Bright can be found here for more information about their cooking classes .
This post is brought to you by the letter B for butter. You can't make French food without it!