What's good in the antipasti, bar food, little bites category these days? Have you tried anything new, tasty or different? Like me, you probably have a list of go to items to order at your favorite restaurants, but do you have an "ugh, just no" list as well? You might not agree with me, and I would love to get feedback on this list, but here are my latest likes and dislikes….
Fried Calamari, a perennial on all menus, too many squid have died, just to be reincarnated as crumb-coated rubber bands. No, it is time for chef's everywhere to find a new use for squid.
Deviled eggs. Again, not so much. This was party food that my Mom and Grandmom served. It's not that I don't like eggs, it's more, a cheap way to present bar food.
Hummus, a perfectly acceptable middle eastern snack or appetizer at times, but not as a passed around hors d'oeuvre. There is nothing sexy about hummus.
Crab cakes with a silky, spicy sriracha laced sauce. That tiny dot of sauce sent these crab cakes into the stratosphere. They were perfect wee bites of goodness. Yes to the crab cakes.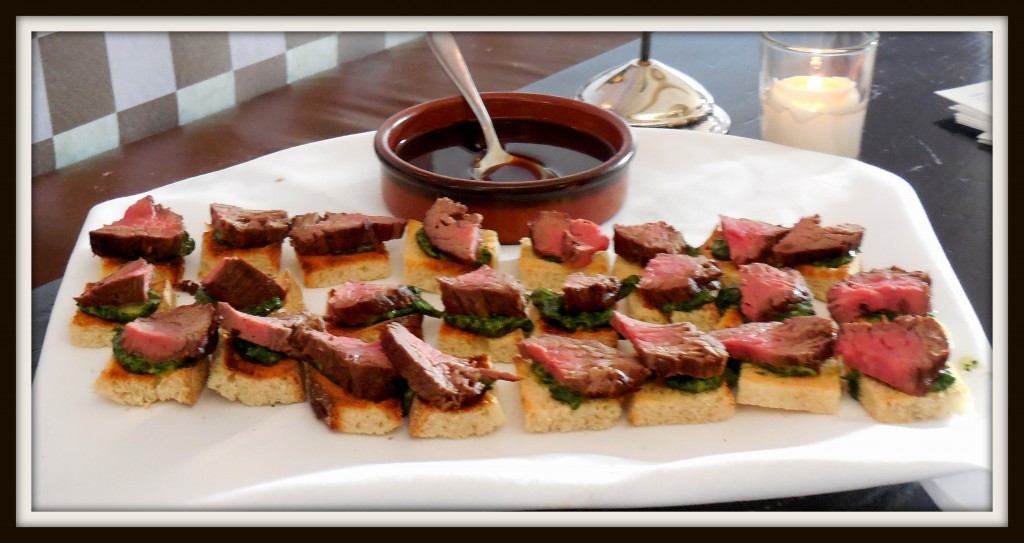 Sirloin tid-bits with sauce on the side? Again, yes. They are medium rare, on garlicky toast. Other than the vegetarians having an issue with this one, what could be bad?
A crisp crusted bar sized pizza? Absolutely! This one came with a creamy, garlicky, fresh clam sauce. Easy to hold and wolf down in a couple of bites. The size of a bar pie makes it a perfect taste and talk option.

Olives, well, you have to like olives, and I do. They are bite sized bits of meaty saltiness, and if the chef has the ability to bring them into this century by adding some spice or citrus, then it is even better.

Fried coconut shrimp have become a sweet, sour ubiquitous item on most menu's. I am not a fan. I like fried shrimp, probably more than I should, but these babies tend to come up fairly greasy and cloyingly sweet. This we will leave in the "to each his own" category.

Sushi, either you love it or you hate it. A few things about this Japanese wonder that has taken over entire restaurants in America. I love fresh, raw, fish. What I don't love is the way most sushi rolls are now presented spicy. If a true sushi chef wants to make a roll spicy, he will, but I believe that restaurants that push a menu full of spicy sushi are using older and lesser grades of fish. After all, how can you taste the freshness of the fish when your mouth is on fire? So, not so much to the spicy sushi, but yes, yes, yes to the fresh stuff.

Bar sized pizza yet again. This one is a little different and doesn't actually come from a bar. This is a Parma pizza, which happens to be a lightly dressed, salad coated, perfectly crunchy crusted pie accented with melt-in-your-mouth pieces of prosciutto. Oh mama, this is so good, and because it comes in the diminutive bar pie size, it makes the good list.

Not wanting to annoy the olive haters in the crowd, I had to think twice about this one. In the end, they make the absolutely, I would order these again list. Pitted green Gaeta olives that have been stuffed with a dab of cheese and tomato, then breaded and deep fried. So good, so easy to pop into your mouth, and better than popcorn.

Last on my list are tiny meatballs with cute little sword-like toothpicks in them. Juicy, single bite wonders with a delectable sauce, why wouldn't they make the yes list? They are a perfect party, bar, or appetizing food with the option of sauce from any culture. Creamy Swedish, tangy Hawaiian with pineapple, Italian marinara, or in this case a spicy Catalan style sauce. It's all good.
Now let's here what is on your yes and no lists…or do you just like everything?
Credit for the food goes to: Calamari and Parma Pizza from Patrizia's in Red Bank, NJ
Deviled Eggs from Taste in Red Bank, NJ
Spiced olives and clam pizza from Porta in Asbury Park, NJ
Hummus, crab cakes and sirloin steaks from Red in Red Bank, NJ
Coconut shrimp from Boondock's in Red Bank, NJ
Meatball's from The Raven and the Peach in Fair Haven, NJ
Stuffed Olives from Birravino in Red Bank, NJ
* Every morsel in this post was made well and properly, and if it is your cup of tea, then by all means order it. Call me out on my likes and dislikes…tell me what you think.