Delicious, well prepared food isn't always beautiful, and beautiful food is often tasteless. Such is the situation encountered over and over again at large scale events. Fundraisers, foodie dinners, farm-to-table, you name it. Every now and then though, my theories become fried in the over-used cooking oil and proof does indeed come out in the pudding.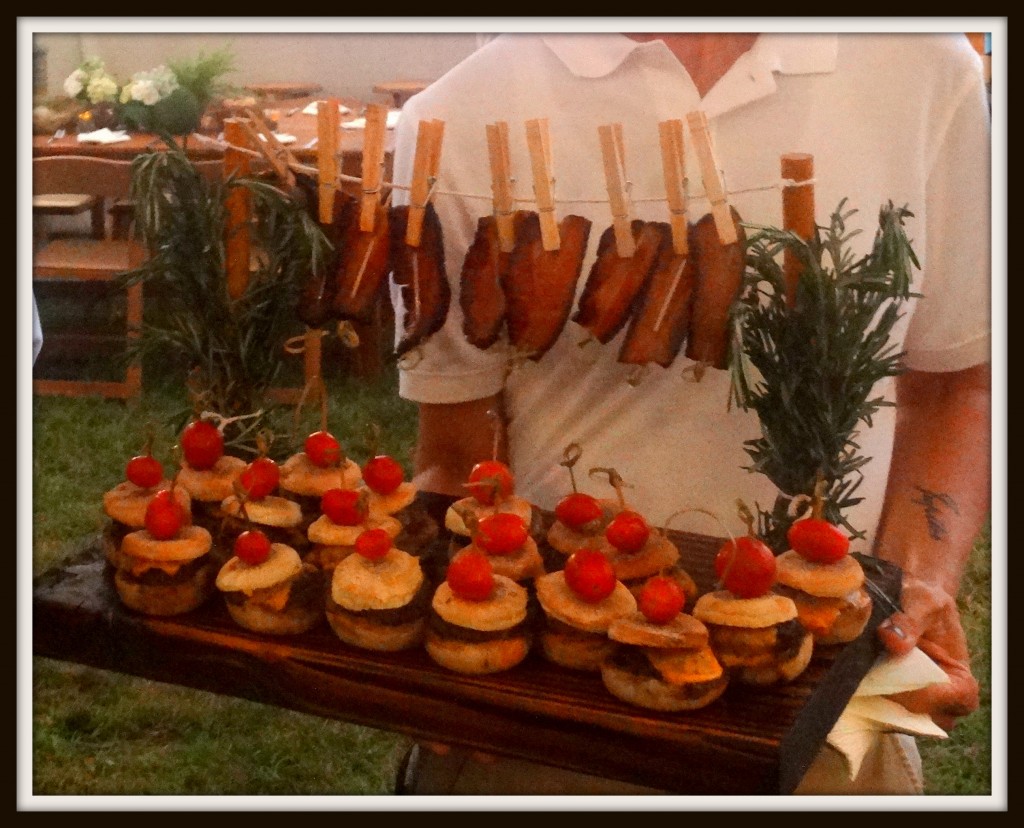 Under two enormous tents, the theme of farm-to-table appeared in the guise of rustic elegance. Food laden buffet tables and dining tables were eye candy, but surprisingly comfortable.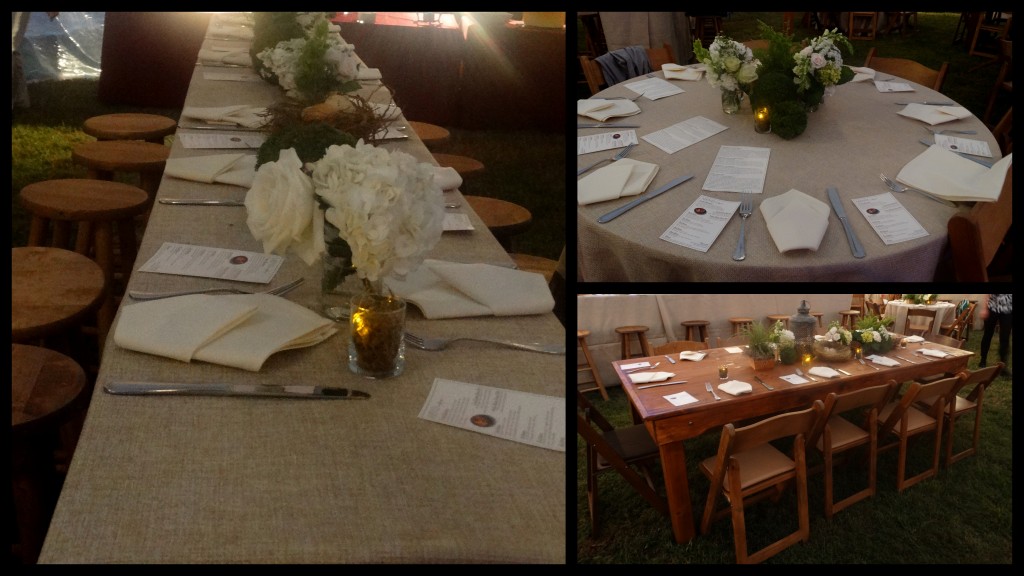 Monmouth county has some true gems when it comes to fresh, local ingredients. More importantly, there are chef's in the area who know exactly how to prepare the bounty of provisions from land and sea.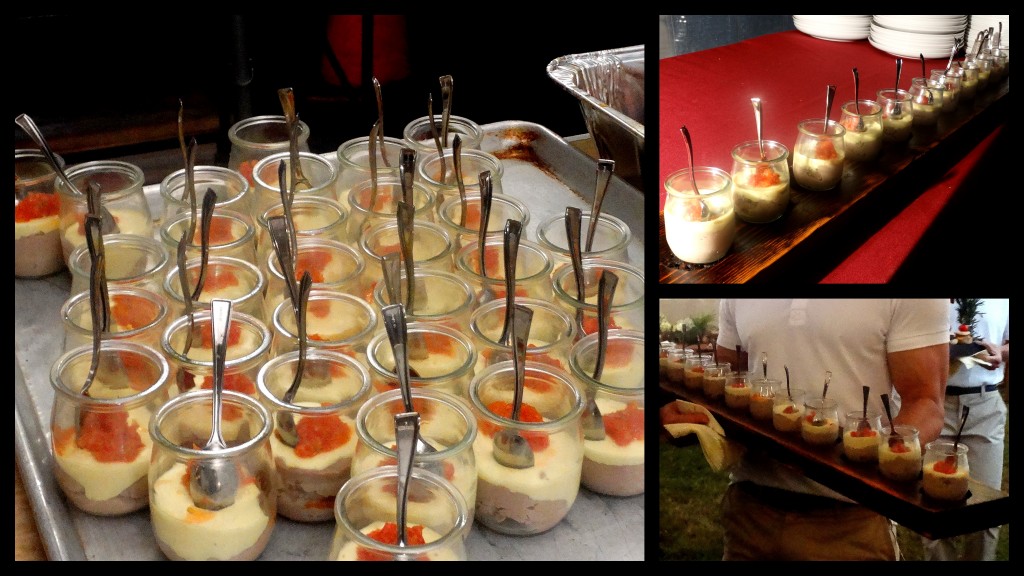 Passed around hors d'oeuvres were mind boggling in their unique appearance, and served in almost an "I dare you" to try it way. Pork rillettes with corn panna cotta served in the little retro jars were a savory treat. Think, rough pate with sweet corn flavored pudding and a dollop of bright acidic tomato. Boom went all of the taste buds at once, and while the caloric hit might have been something to consider, this was a party and my mouth just didn't care. The cheeseburger sliders garnished with pickled vegetables and a "clothes line" of bacon made me laugh. How do you serve cheeseburgers with a sense of humor? It was clever, adorable and eye catching.

Quinoa sliders; pretty to look at, but alas, not up my alley. Others, I suspect, vegetarians were thrilled to see them and the presentation was terrific.

A most unexpected tidbit floored me in it's simplicity and flavor. Living on the east coast, close enough to Pennsylvania, most everyone has tasted scrapple. Those who grew up with it find it to be a comfort food. Some of us never developed a taste for it, until now. Tiny little nuggets of deep fried scrapple with sweet apples atop were just plain yummy. This is the kind of temptation that I would love to find on a bar menu.
In addition to the appetizing trays, there was a fantastic raw bar provided by Lusty Lobster in Highlands, NJ. With eyes to local fare, the Sandy Hook Bay clams were cold, sweet, and slippery tastes from the sea. Shrimps, oysters, and decadent crab claws were a huge hit.
David Burke, celebrity restaurateur and chef knows how to take the basics and turn them into the most fascinating creations. Monmouth county can claim David Burke's Fromagerie as a culinary wonderland. The Day Boat Scallop was tender, sweet and perfectly prepared. Brought to flavor phenomenon status by a ragout of chanterelles, leek fondue, parsnip puree, and sticks of apples for crunch and a bit of tartness. This is food as art, for all of the senses.
Perfectly rare roast prime rib of beef is the number one reason I could never be a vegetarian. I could eat veggie based dishes for weeks, but put a slab of beef in front of me and I'm a goner.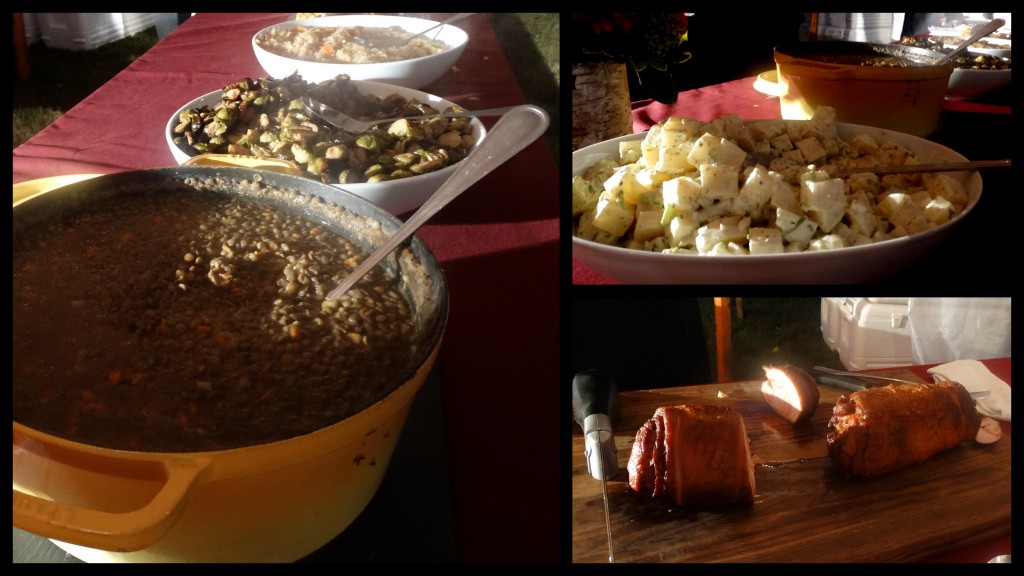 Executive Chef, Phil Deffina, deserved a standing ovation for the consistent perfection in these dishes. A porchetta carving station included, sweet and sour kraut, a huge, homey pot of lentils, potato salad, and corn bread. The sides kept the elegance of the cuisine to a down-to-earth level. The roasted brussel sprouts brought thoughts of Thanksgiving to mind.
Conceptually seasonal, a platter of heirloom tomatoes and burrata was a lovely send off to summer while a shaved brussel sprout salad seemed to be a welcome to autumn. Local apples, candied pecans, and dried cranberries reminded the palate of flavors to come.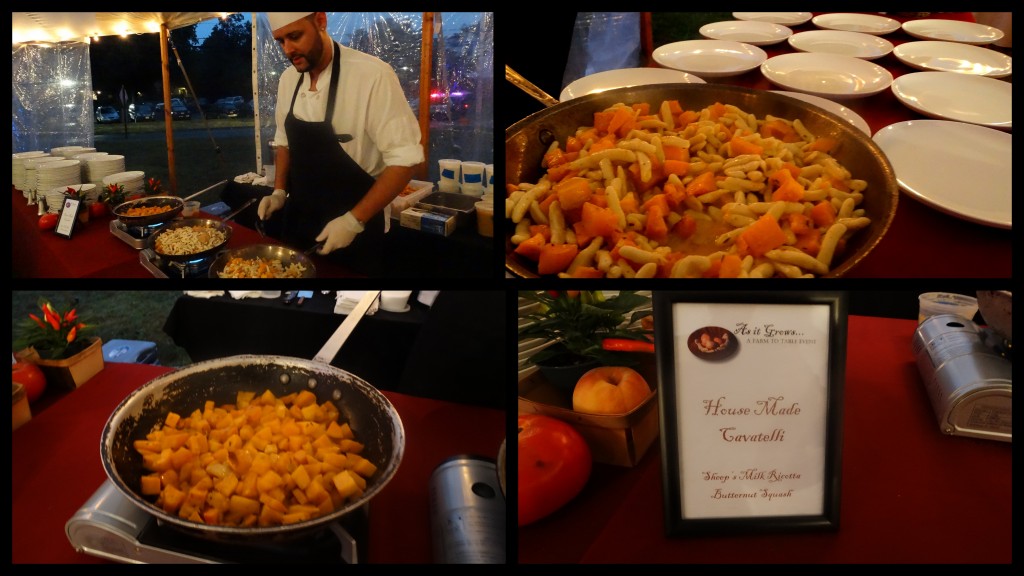 Guests were loving the house made cavatelli with ricotta and sweet butternut squash. I heard more than one person make plans to go back to the buffet for seconds. This is one of those simple recipes that you can copy in your home kitchen. A dish that makes you smile, and a true comfort food.
Sickles Market, a staple for those who live in the area and perhaps take for granted, provided a beautiful cheese table. If you have been reading this blog for any length of time, you will note that I write about Sickles often. Dependable for cheese, meat and produce, their prepared food area is always ahead of the game. Bob Sickles, has grown an empire from the inherited family farm that we all get to enjoy and appreciate. From the food provided, to the historical homestead that graces this area, it is clearly more than business. I see a labor of love to be considered and to be grateful for.
Sickles Market, Lusty Lobster, and David Burke's Fromagerie, have given us mouth-watering reasons to be inspired in our pursuit of edible integrity. I'd like to shout out an appreciative thank you to them for continuing to give foodies everywhere something to chew on.