The vegetable gardens this season have become a mixed bag of problems and prodigious produce. Colorado potato beetles have turned up and devoured one of our tomato plants. The words ewww and ick came out of me several times. However, other plants are a goldmine of green for the kitchen.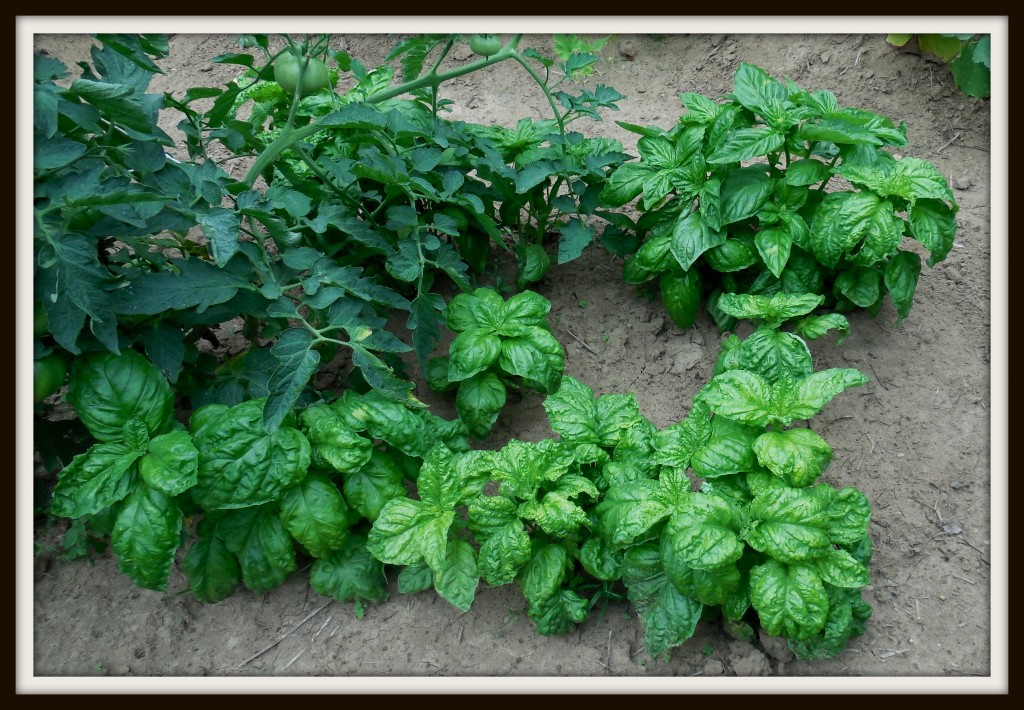 One of my favorite crops this year, has turned out to be Mammoth basil. With larger leaves and a more pungent taste and fragrance, this variety is perfect for making pesto sauce.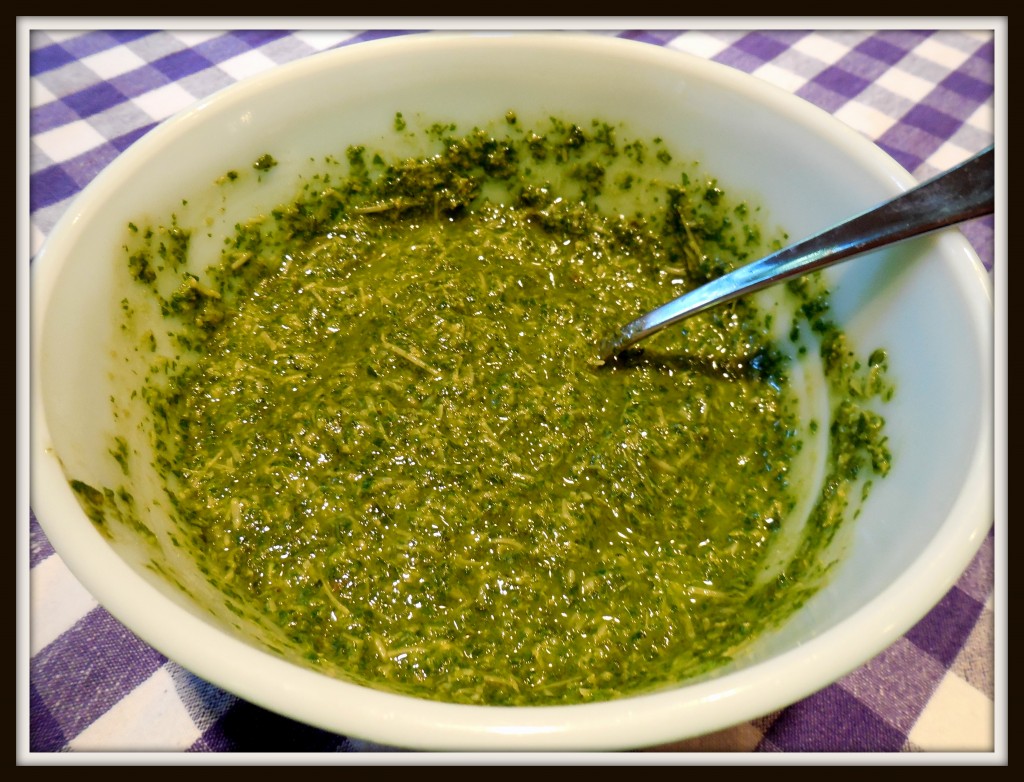 Using the same recipe year after year, it just comes down to five basic ingredients in these amounts. Two cups of basil leaves, two cloves of garlic, 1/2 cup olive oil, 1/2 cup grated Parmesan cheese, and 1/2 cup pine nuts. The garlic and nuts are ground to a paste in a food processor with a pinch of kosher salt. Then the basil leaves are added and ground while drizzling in the olive oil. When the sauce consistency is achieved, blend in the cheese and add a little salt.
Double, or triple the recipe and divide the extra into 1/2 cup or full cup amounts. Seal in ziploc bags and date, being sure to squeeze out as much air as possible.

Freeze the air-free bags of pesto, and you have a bright, garlicky taste of summer to look forward to all year round. Defrosting in the refrigerator, the bags of pesto will still have their bright green color, but as soon as you open them, the air oxidizes the brightness to a more mellow, less vibrant color. Don't let the color change bother you. The pesto is still delicious, especially when tossed with pasta.
Bowled over by our garden inspired menu last night, we spent some time hashing out how we used the bonanza of zucchini by cooking it with onion and tomatoes into a chunky sauce to cover a little linguini fini.
A variety of ripe tomatoes, chopped with mozzarella and basil, then marinated in olive oil and white balsamic vinegar,  served over crunchy, rustic Italian bread, had me thinking of a deconstructed Panzanella salad. It was tangy, sweet, and we would have happily continued eating every bit of it. But, we knew that there was a main course of grilled swordfish still to be eaten.
Luxuriously blanketed with the slightly salty, garlic infused pesto sauce, the swordfish steaks were divine. Just writing about it has my mouth watering.
Every good reason to grow a summer garden is in this menu. Fresh picked and ready for dinner it is what summer is all about.