The Count Basie Theatre in Red Bank, NJ had a three evening, two day, foodie packed schedule this weekend, with the logistics of this event being nothing short of mesmerizing.  A three ring circus has less going on at any given moment than the Basie did on Saturday and Sunday. Andrew Zimmern was on the stage Friday night, while Giada de Laurentiis took her turn on Saturday night. Both familiar food network names, filled the theatre seats.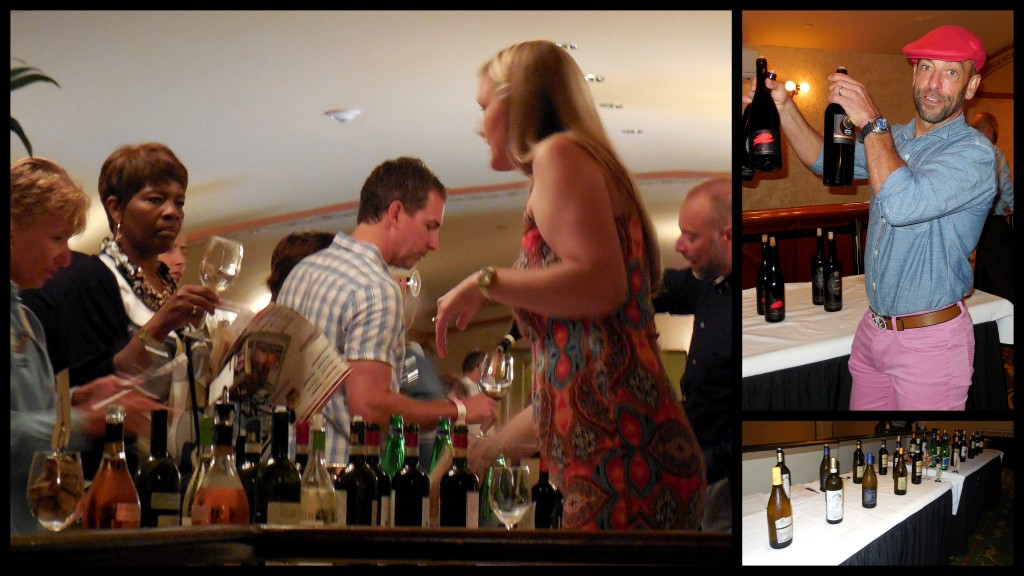 Vic Rallo, the PBS celebrity chef and oenophile, treated a few hundred guests to one of the classiest tastings I have ever had the pleasure to experience. Several tables were prepared with properly chilled whites and reds to be sipped in wine glasses (not paper cups). Rallo, was on hand to suggest, discuss and otherwise part with wine wisdom that you might get little bites of if you watch his show, Eat Drink Italy. Being schooled by Rallo in person is a whole other experience. His passion for the grape is significant to the point of being tactile.
Hundreds of happy tasters filed through the beautiful upper lobby to increase their vino knowledge and purchase a bottle or two for future enjoyment.
Those who were not there for the wine were playing bartender at the make your own Bloody Mary bar. This grown up party concept is just what the adventurous palates were looking for. Not only could you make it as spicy as you like, there were some very unique embellishments included. Strips of crispy bacon, pretzels and bread sticks were being used as swizzle sticks in addition to the traditional celery sticks. Pickled jalapenos, olives, pickle spears, green beans and many other items were waiting to be dunked in the tomato juice cocktail as well.
There were food vendors, local cupcakes from the award winning  Sugar Rush on Front Street, chocolates, coffee, cheesecake, and food trucks. A ninety second brick oven pizza truck, parked next to a truck producing mussels marina were in the back lot. If they weren't drinking it, they were eating it. Inside on the patio, outside on the sidewalks. Food trucks were parked up and down the street dishing out sausage and pepper sandwiches, as well as that unique Jersey delicacy, pork roll and cheese.
There were also food demonstrations and cooking classes that had people lined up a half hour in advance. Pazzo, a restaurant on Front Street in Red Bank had it's chef serving up papparadelle with a fresh tomato sauce along with a lovely, light gazpacho chaser. Both tasted like they had just been plucked from the summer garden.
Executive Chef Phil Deffina from David Burke's Fromagerie in Rumson served up a lesson in blistered Shishito peppers, saying one in every ten is not as sweet and can have a little heat to it. Mine was hot, but had an interesting flavor. He also  demonstrated a restaurant appetizer that consisted of a crab cake built between a raft of thin pretzel rods and held together with ribbons made from chives . Also passed around were deep fried, pulled pork lolly pops, that you could drag through a tangy barbecue sauce. This restaurant is definitely not short on innovative recipes and the chef packed a lot of interesting inside foodie information into a very little bit of time.
The cost of a ticket to attend this event was a mere $10.00. The classes, demonstrations, tastings, and music ( three different bands each day) were inclusive. So was the beer tasting on the patio. It was a party of epic proportions, but this was just day one. Day two consisted of a Blues and Brews theme that rocked the house.
With part of the proceeds going  to Jon and Dorothea Bon Jovi's Soul Kitchen, it was a rockin' good cause that I sincerely hope the theatre will continue as an annual event. A day two post will follow tomorrow. We both need to digest what day one consisted of and make room for the raucous good time that followed.