Spending more time in doors when you are living at the Jersey Shore, or anywhere the temperatures drop to around freezing is a given at this time of year. Some of us embrace the opportunity to become reacquainted with our stoves, ovens and refrigerators. What's been steaming up the air in your kitchens? We've been keeping the stock pots hot and full of soup, slow braising meats, and enjoying what the market has to offer in the way of winter veggies. Here are a few high points…
Chicken noodle soup is a proverbial staple in our house, as soon as the mercury in our thermometer dips, containers of this liquid gold can be found in our fridge. I am a firm believer in the medicinal and preventive qualities of a whole chicken covered in water and brought to boil in a pot filled with celery, carrots, parsnips, onions, and turnips. Almost every ethnicity has relied on this broth for as far back as civilization goes. The addition of slurp-able noodles though is a personal thing and goes way back to my Grandmother's kitchen.
Not only will a great big bowl of Naval oranges provide your family with lots of immune building vitamin C, it is an easy to grab and go snack. The fact that they are a beautiful color that will make you smile and think of sunshine, well, that's just a big bonus.
Vegetables, we all know are a wonderful source of vitamins, however, since we are spending a little extra time in the kitchen, this is the perfect moment to try a more in-depth recipe. With a little work; clipping the tips of the leaves and scooping out the nasty choke bits, then stuffing them with a mixture of bread crumbs sauteed with garlicky olive oil and a gourmet addition of chopped pine nuts, they were ready for a steam bath. The wine based, lemony broth softens these vegetables into a dinner worthy of the fanciest restaurant. The best part though is you can eat it at home where while lingering at the table, and stuffed artichokes do require a relaxed leisurely stretch to be consumed properly, you can lick your fingers in the process. Most of us won't do this in a restaurant.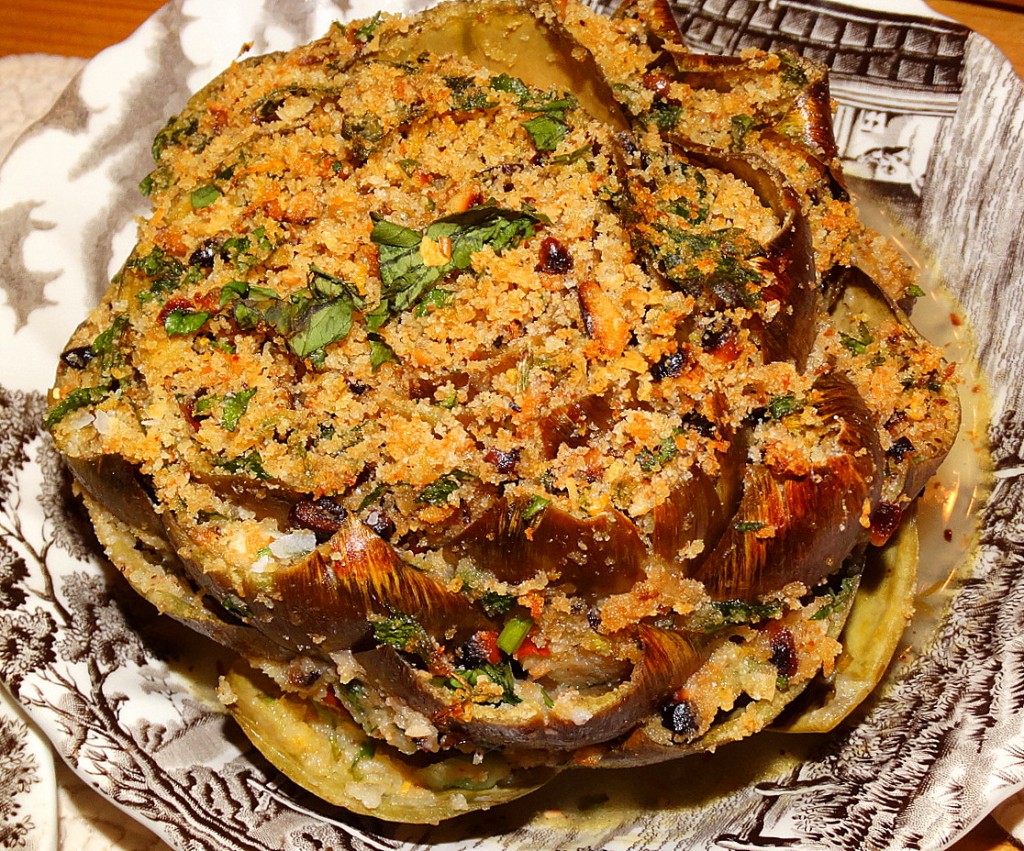 Take out your cookbooks and find those recipes you have been considering. The time to stop procrastinating is now. Cook something healthy and delicious while it's cold outside. Better still, if you like company in the kitchen, make it a family affair. We did, and our brilliant youngest whipped up a cupcake tin filled with pop-overs…what is it they say apples and where they fall?