Sitting at the bar in our neighborhood pub, I once asked a bartender I've known for a while, what her thoughts were about ordering food when she is out on a date. In my mind I was quite sure that something clean and dainty would be the way to go. Her response was that she likes to eat meat. If she is in the mood for a big, sloppy burger or sandwich, that is what she's going with. She explained that she was the only daughter in a family of boys and in her words, "If the guy I am dating has a problem with what I am eating, then he's not worth my time."
When the rest of the women at the bar shook their collective heads in agreement, I knew I'd been schooled. Women today don't give a fig about sexy when it comes to good food. That said, I still like the idea that a bottle of wine, a few share-able small dishes, and a comfortable setting can be romantic.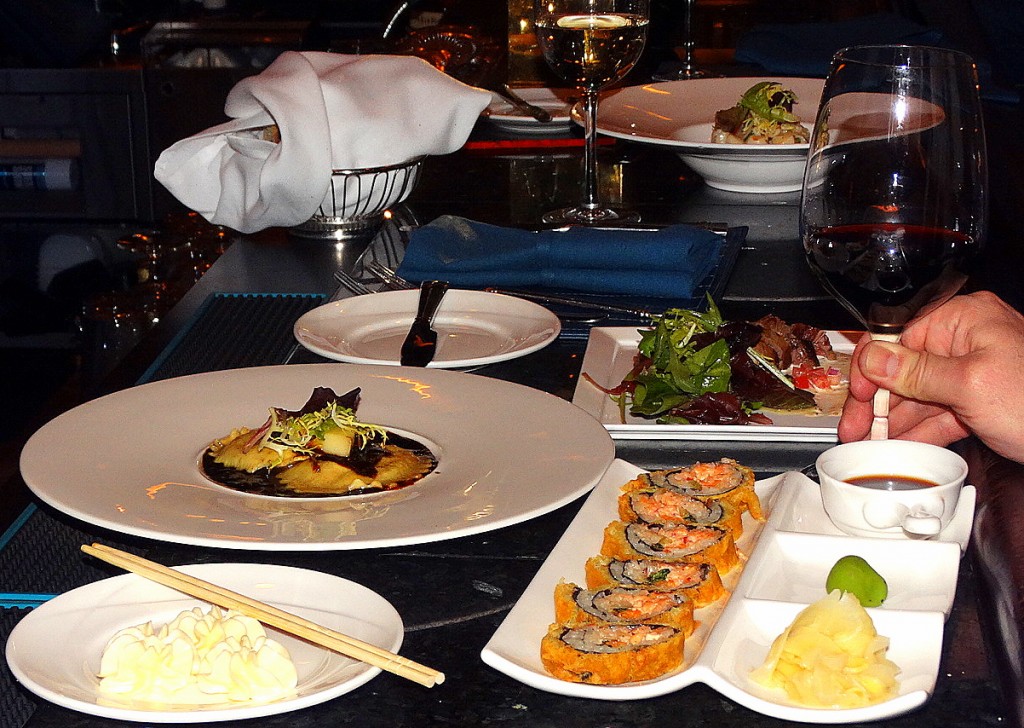 A new small-plate menu tasting at The Raven and the Peach in Fair Haven, NJ had all the right romantic elements. The atmosphere, even in the bar area is serene, classy, intimate. It is a perfect spot to sip a cocktail, get to know someone new over a tasty dish or two and linger.
Sharing a few appetizer sized plates is obviously not a new concept. Tapas in Spain, Dim Sum in China, and Antipasti in Italy are all time honored dining methods that encourage a taste here and a bite there. After all, how many meals do you get halfway through when the realization hits that you have had enough. If you stop eating, the question of whether you didn't care for the food arises. Bring the uneaten portion home with you? Or not. What if the scenario dictates going from dinner to another venue? Let's be honest, walking out of a restaurant with a doggy bag is not sexy.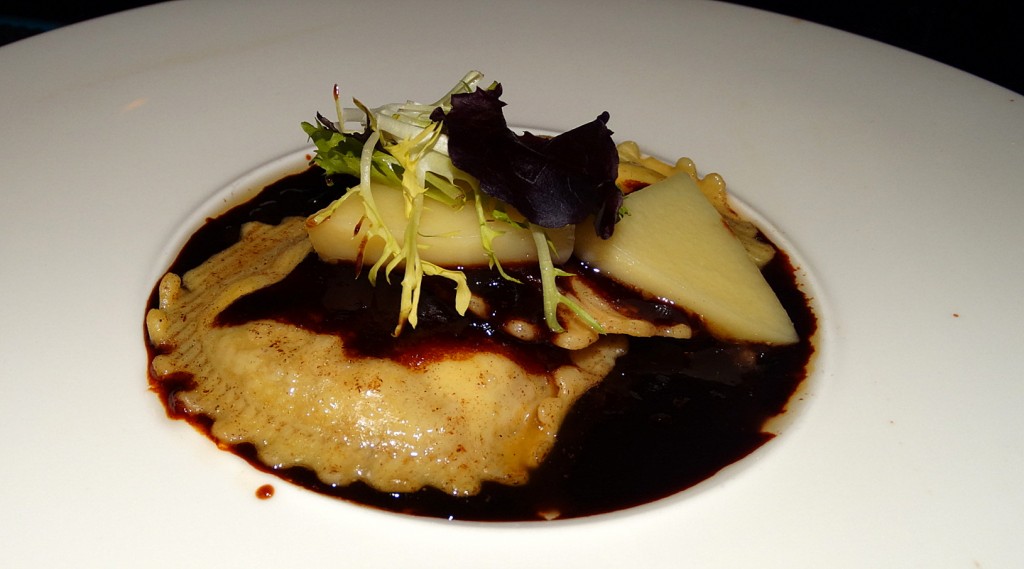 Conversation seems to flow more freely when food is shared. What could be more interesting than a discussion of what you are tasting? Like it? Don't care for it?  Tasting menus provide fodder when the verbal discourse becomes forced. Everyone has an opinion about food. And, should you need an ice breaker, a question of what you are eating or drinking is an easy in.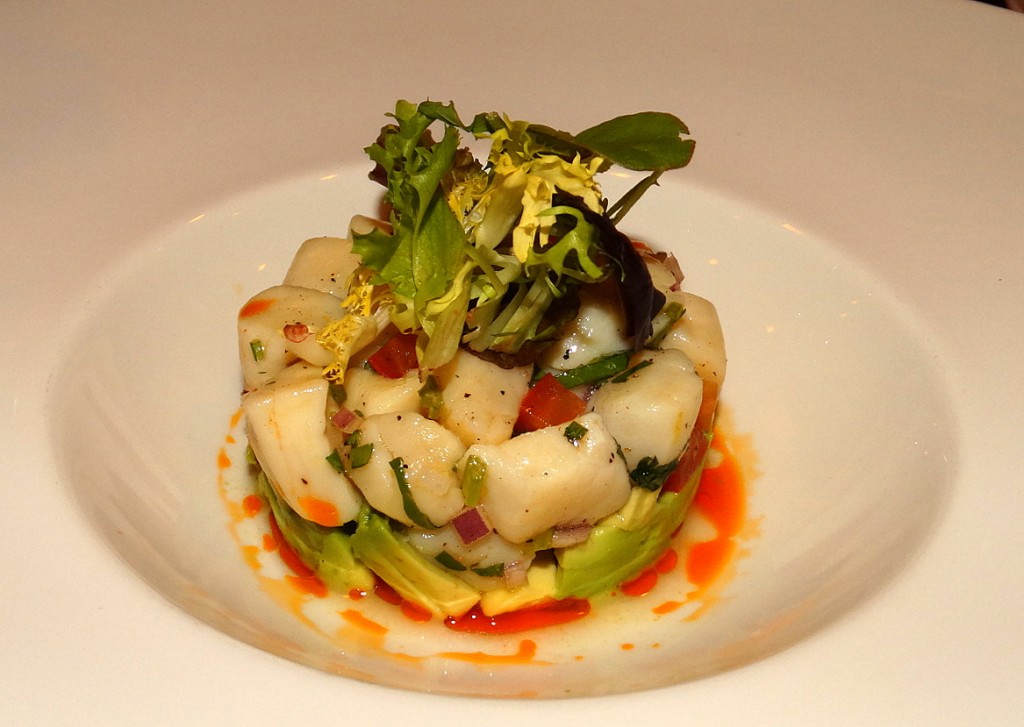 The scallop ceviche above, is a perfect case in point. Chopsticks make it simple to pinch a small, sweet, scallop. Pop it into your mouth and continue talking. This dish, by the way, is one of my new favorites. The over-sized platter with deep center well is filled with opalescent bay scallops, citrus infused, on a creamy pillow of avocado and perked up with chili oil. It is one of those dishes that makes your lips tingle and your mouth sing.
A perfectly prepared, medium rare flat iron steak, served sliced with a small side salad of baby greens was also on the tasting menu. The steak melted in my mouth and elicited the mmmm that you want to hear when meat meets tongue.
There was a choice of three ravioli dishes new to the menu. The men I was dining with raved about the short rib ravioli. Long braised meats served with pasta or potatoes has that earthy, hearth and home vibe that screams comfort food to so many.
How often do you look forward to going back to a restaurant just to try another menu offering? The beauty of ordering the small plates, appetizers, starters, tapas, call them what you will, is that it is all so do-able. Less expensive than a full on meal, less fattening, and a better opportunity to taste several dishes in one sitting.