Asparagus are one of the most versatile vegetables to include in your menu, but did you know that they are also very easy to grow?
Once planted, these perennials come up year after year on their own. The crown's have spider like roots that multiply. Expect no vegetable the first year and some the second. Once established though they are one of the first to come up in your garden. It is a very rewarding sight.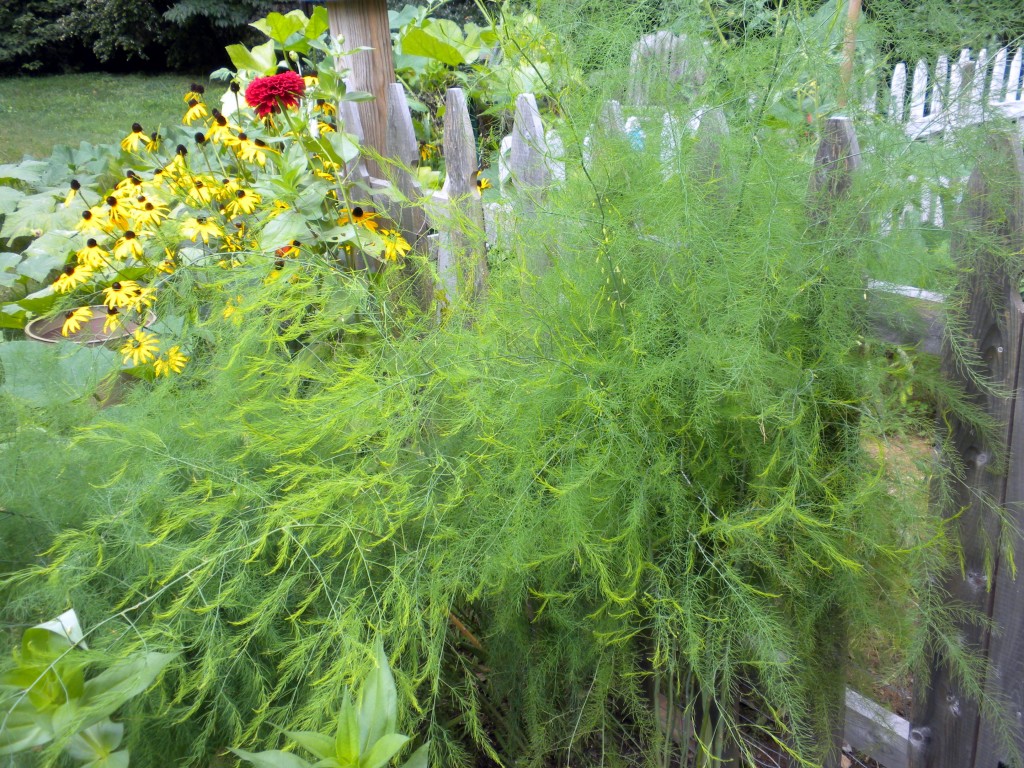 When left in the ground they do turn into large beautiful ferns and the female plants produce red berries. An additional plus for growing asparagus; they are deer and rabbit resistant. Seems the critters just aren't interested in this crop.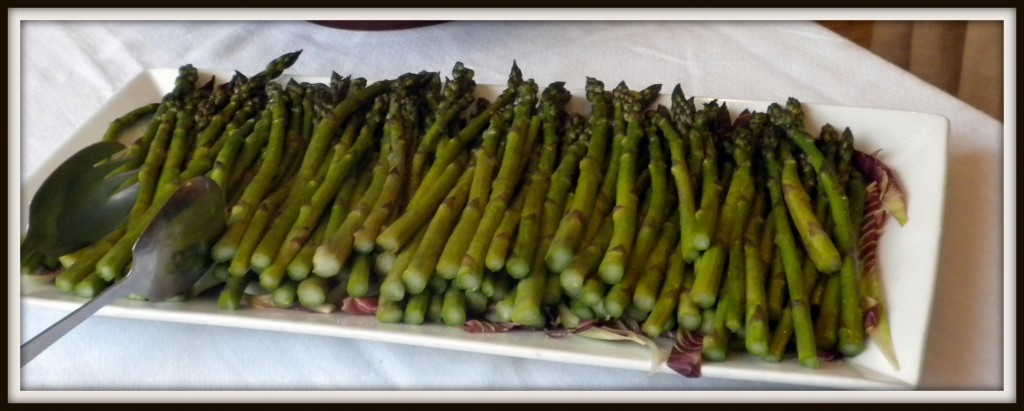 The best reason to grow these gemof the season of course is that they are delicious. Give them a rinse, break off the woody stems, and drop them into a pot of boiling water. Leave them to simmer for no more than four to five minutes and either flash chill them in ice water to keep crisp, or leave them to cool on their own for a softer, more tender stalk.
 One way to serve asparagus is on a composed salad platter. The dish shown above is a perfect Spring season salad with roasted beets, asparagus, artichoke hearts, cucumbers and hard boiled eggs. The dressing is a simple Dijon mustard vinaigrette. A perfect company salad to be made ahead and stored, covered, in the refrigerator until needed.
Gilding this beautiful lily, we made breakfast for dinner with some left over corned beef, a handful of asparagus, new red potatoes, an onion, eggs and a small container of left over Hollandaise sauce.  Mixing together a hash and eggs concept with an Eggs Benedict dish we wound up with a composed Asparagus Hash Benedict.
Home fries as the base, topped with slices of corned beef, asparagus, fried eggs and the Hollandaise sauce topping. This was one very filling and satisfying dish!
Asparagus are delicious roasted in the oven on a cookie sheet. Arrange in a single row, sprinkle with olive oil, salt and pepper and roast until tender. Add Parmesan cheese to them before roasting for additional flavor.
One other favorite use for asparagus is to chop them into bite size pieces and saute them in a stir fry, or  add them to a pasta primavera.
The day of simple steamed asparagus had it's place in time. Now, is when you should experiment with recipes in the kitchen. You just can't go wrong with asparagus in a dish!