Annual events have a tendency to become stale and in time mundane. An exception is the happily titled Beer, Bourbon, BBQ, Year of the Chicken, a suburban, backyard food and drink extravaganza that sprang from the minds of Sissy and Rick Norman. That spark of an idea would become an epic conflagration — with the help of Dave Mayhew and his wife Jen — into the 2017 celebration of professional chefs, bartenders, beer brewers, and entertainers seen in the pictures below.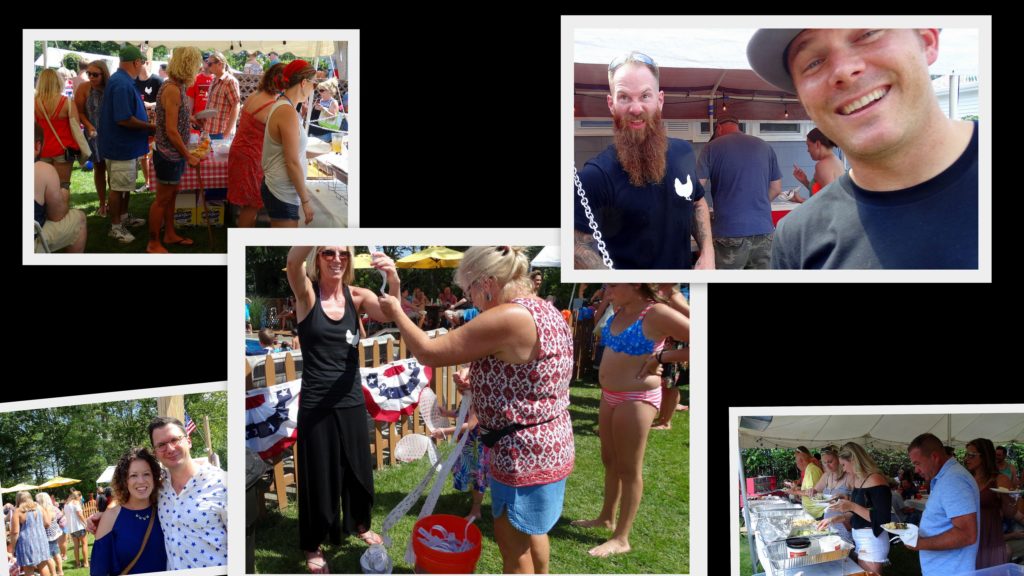 Norman and Mayhew, bartenders at Jamian's Food and Drink in Red Bank, NJ have acquired many friends over the years and I am fortunate to fall into that category. Their unshakable enthusiasm for trying new and unusual ingredients along with their love of culinary tradition is contagious. So much so that the original party has grown from a handful of like-minded foodies to about 200 people last year, to this years astonishing attendance of 400.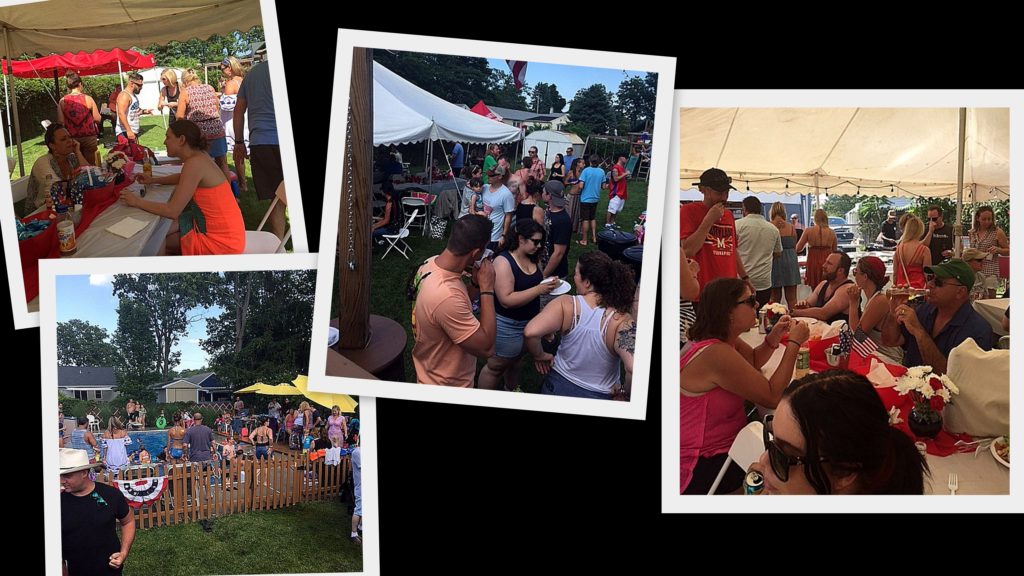 This year, Rick, Dave, and Andrew Rasizer (general manager at B2 Bistro and Bar in Red Bank, NJ) brewed a Brett pale ale at Jughandle Brewery in Tinton Falls, NJ. Named Pink Shorts, the brew with an ABV percent of 4.7 is currently sold at Jamian's and B2.
 Additionally, cocktails were served at the bar by Kacey Corsentino, Michelle Roe, Lauren Mass, Robin Morris, Jason and Anna Norman, and Mike Niosi. Sheri Wilson, owner of the Harlem Tavern, Row House, and Crazy Annies — all in Manhattan — supplied the bar with ten gallons of Sangria, "Hot Enough to Last" jalapeño bourbon cocktails and pineapple mojitos.
Ask any of the guests and they'll tell you with mouths still full of food that they can't talk to you right now because there's something good to taste. And, drink. But it's also about the live entertainment supplied by Pat Guadagno and Richie Blackwell this year. Separately, each component is extraordinary, but together, this is what "the real Jersey Shore," is all about. Locally sourced ingredients, recipes prepared by many of the guests as well as the pro's, and camaraderie that is exceptional.
Food options set up buffet-style ran the gamut from slaws, salads, and rice-based vegan friendly dishes to a sweat-inducing chili made by Bruce Ericson. My contribution was a gluten-free, Cabot cheddar and  jalapeño flecked corn bread. Everyone brought their A-game as it takes a heap to impress those in the restaurant industry. Ben Mayhew, Dave's brother and a professional chef and master gardener at the University of Rhode Island showed up with 300 Salt Pond Oysters. He also roasted the pig in a Caja China Roasting Box.

Enormous, U13 head-on shrimp were grilled on a flat-top BBQ by Matt Cosenzo in a spicy tomato based sauce but it was the addition of African blue basil grown by Ben Mayhew in his community garden that got my attention. It was a pungently noticeable inclusion and a fresh surprise to the dish.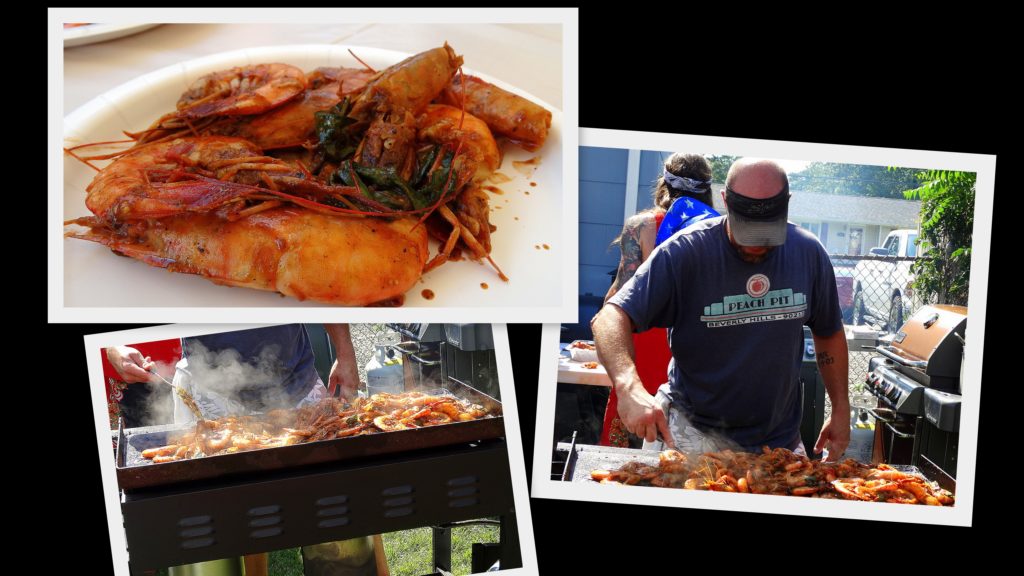 Bob Travis brought "Grandpa's Chicken," to the outdoor kitchen. Its aroma elicited a mouth-watering-groan and not to be outdone by the other chefs his wife Lisa told me that he basted the bird pieces with sprigs of fresh mint.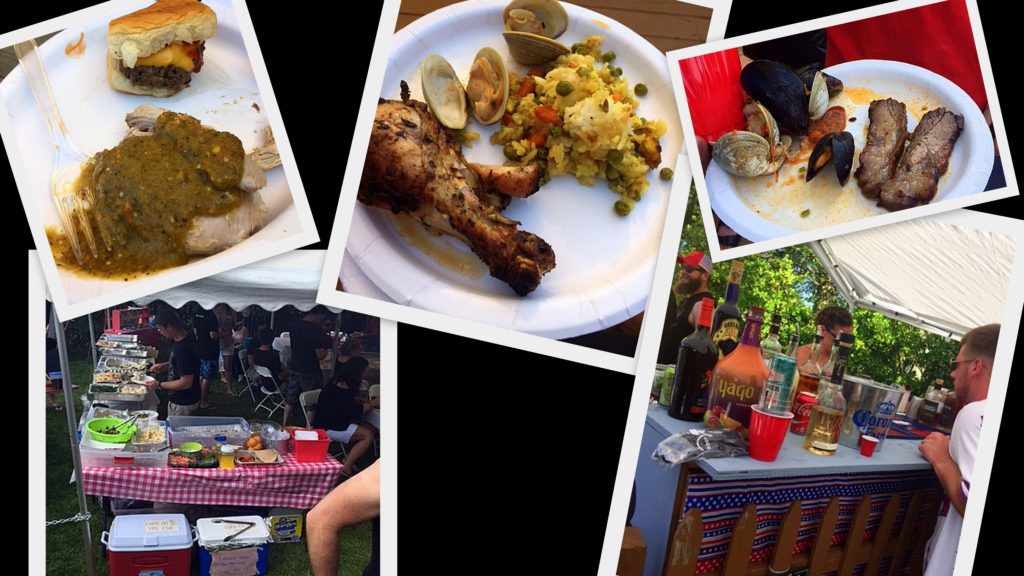 Laercio Chamon — aka Junior — executive chef and owner of Graze Restaurant in Little Silver, NJ took his turn on one of the many grills with a Portuguese rendition of grilled clams, mussels and chorizo. The garlicky mix popped with big flavors. His hyper-local farm-to-table restaurant is a favorite for us. The knowledge of who grew/raised the food the chef prepares is a precious thing. Chamon also contributed braised ribs.
Missing in the pictures are additional dishes such as venison made by Bob Soden, brisket made by Dave Mayhew, Sliders made by Brendan Day (of which my husband Bruce said that was the single most delicious slider he's had all year) and ribs made by Jessica Parker. Andrew Rasizer made a guava braised lamb leg with barbacoa sauce and Nick Estephan, owner and chef at FIG Catering in Monmouth County, NJ graced the table with a Mangalista rib loin marinated sous vide and grilled.
By the numbers, there were 300 oysters, 400 hot dogs, 100 hamburgers, 200 sliders, 60 lbs of pig, 30 lbs of lamb, 40 lbs of brisket, 40 lbs of chicken, 5 lbs of bacon, and countless side dishes. Three cases of booze, 10 gallons of premixed cocktails, 40 cases of beer, and 1 keg… and over 500 lbs of ice.
An interesting side note: Working in a hot-as-hell environment over countless grills in the outdoor kitchen, professional chefs and first-rate amateur cooks must have left their egos at home because all we saw was good will and agreeable spirit.
A testament to good taste in friendships forged and combined, the little spark of a pig roasting on the grill has grown to an astonishing day in the suburbs. Our hosts hope to monetize the event next year, planning to raise funds to support a charity of their choosing.
Opinions, ideas, or if I left anyone out, please leave comments to add to this post. Your contribution was appreciated and we'd like to give credit where it is due.
Photo's and food from last years blast can be seen here.
If you like what you're reading, please consider dropping a few dollars into my #hungrywriter campaign – the link can be found on the sidebar heart logo of my blog or click here.