Taste and Technique, a cooking studio in Fair Haven, NJ, often schedules local celebrity chef's for demonstrations. These classes are always delicious, informative and entertaining. The cooking school also offers hands-on learning opportunities with professional chef's. Rachel Weston taught a class recently, her first time at this studio, but not her first time teaching, that was instructive, insightful, and of course, delicious. Although I have some experience in the food world, I walked away with a few new tricks.
After Carolyn Rue, owner of Taste and Technique, welcomed everyone and introduced the chef, Weston jumped right in with her own introduction and experience.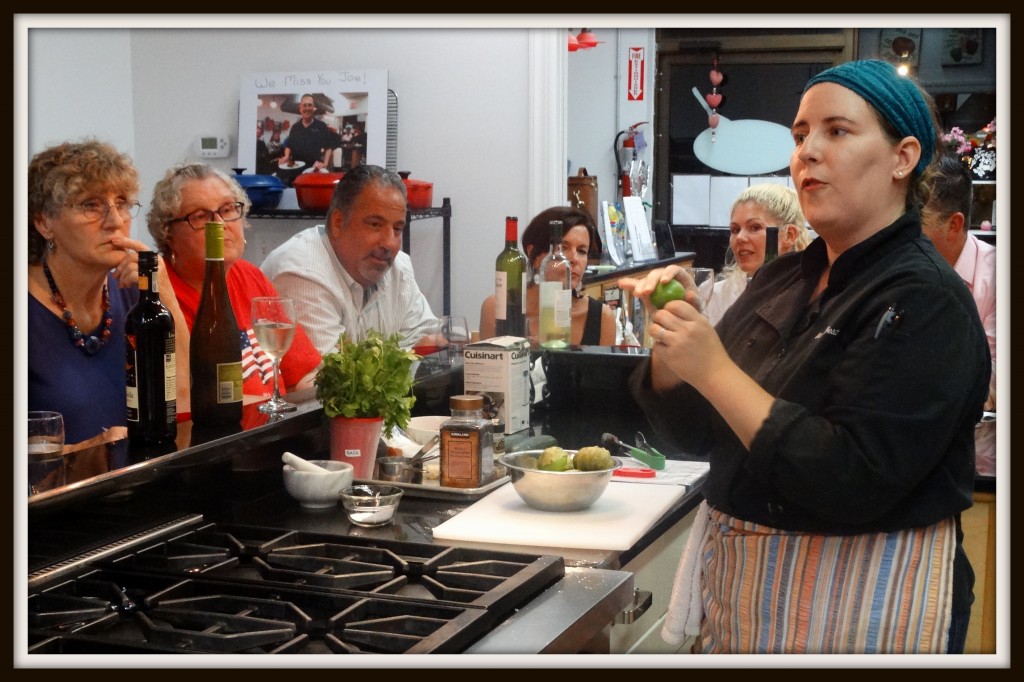 Starting off with information about tomatillo's and the salsa she was preparing for a shrimp appetizer, Weston peeled, chopped and fielded questions.
With the help of Rue's attentive and untiring staff, the sauteed shrimp appetizer was plated and served to hungry guests.
Second courses tend to be light, and this salad of arugula, roasted parsnips and hazel nuts was no exception. Weston whipped up a perfect vinaigrette. The combination of roasted parsnips and hazelnuts played beautifully into the autumn and holiday menu's that we have on our minds. I really liked the surprise of hazelnuts as opposed to the expected walnuts, and the only change I will make to this dish is to chop the nuts a bit as they are difficult to pierce with a fork.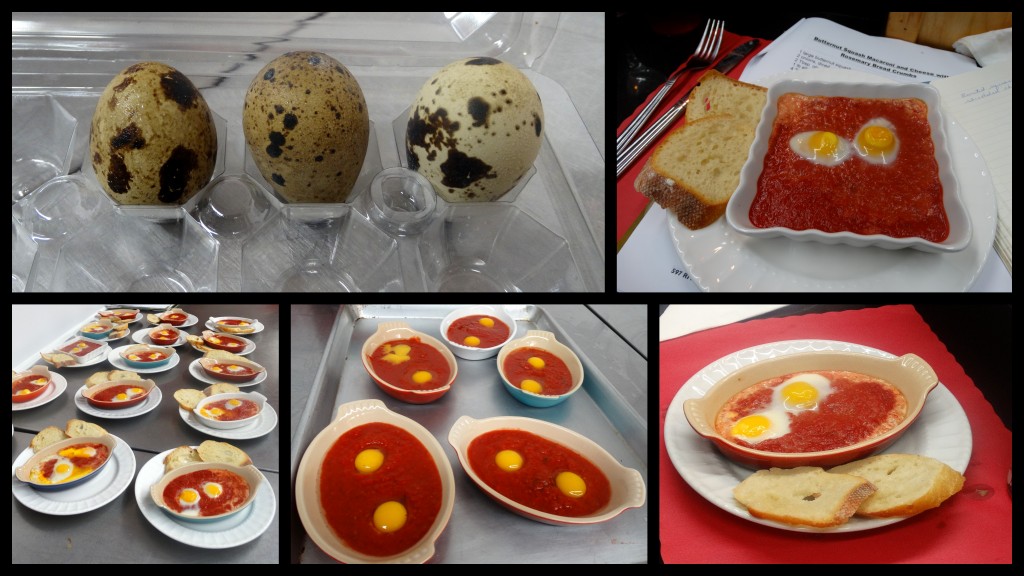 Eggs in Purgatory was the title of this next dish. Again, this is a recipe I will repeat at home. Canned Jersey tomatoes were spiked with chipotle peppers in adobo sauce to create a little heat. Quail eggs, a fancy, but not necessary touch to the dish were floated on the sauce. You could easily substitute easier to find hen eggs in this dish. The casserole was popped into the oven for about ten minutes and served with crusty bread. Creamy, slightly spicy and somewhat exotic, it was a savory delight.
Students and diners became comfortable and began to get involved with the hands-on optional learning experience. Sipping wine, tasting recipes and socializing come part and parcel at Taste and Technique. There was a birthday, an anniversary, and a first date night out after baby was born celebration going on this particular evening. The food and the atmosphere being most celebratory.
One of the most anticipated courses of the night was a baked macaroni and cheese. Roasted butternut squash added fiber, vitamins, and a lighter texture to this pasta casserole. The sweetness from the squash was subtle, and the fresh chopped rosemary added to the topping was a perfect crunchy foil to what can turn out to be an otherwise mushy dish. Second helpings were requested by some. Yes, it was that good. Weston definitely has a few tricks to teach us.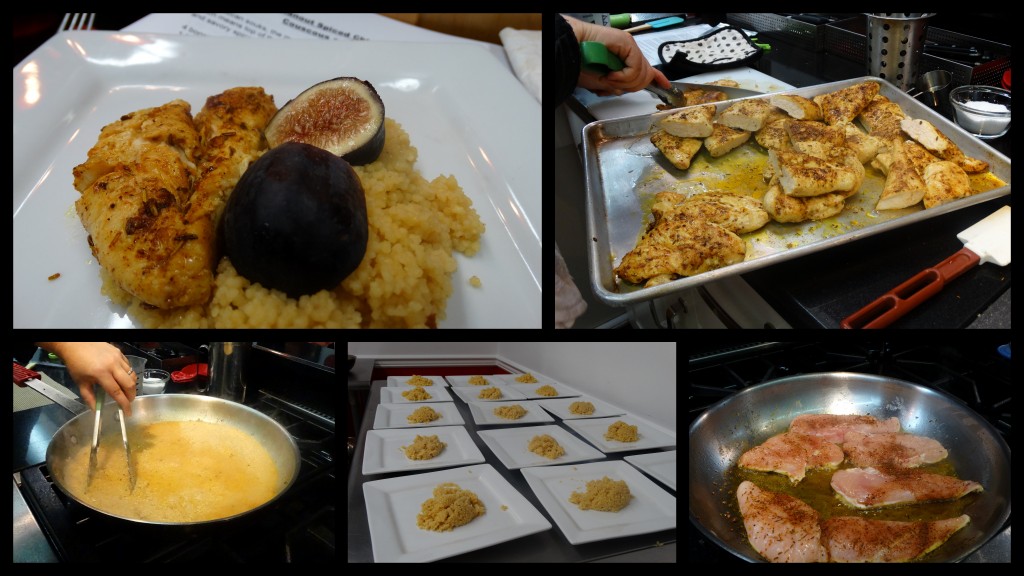 The main course came with another learning curve for the less hungry but still inquisitive students. A Moroccan spice mixture, used to coat chicken breasts that were then given a quick saute and finished in the oven, came out juicy and tender. Served with couscous cooked in the same pan that the chicken was sauteed in, helped to influence this Ras al Hanout spiced dish further. Garnished with a fresh fig, it was my personal favorite dish of the evening. Weston told the class that she developed a Ras al Hanout spice blend for a previous employer who sells the spice mixture. She clearly knew how to use what might have been an exotic concept to the rest of the class.
Dessert was an interesting riff on a rustic apple pie beloved by the French. Tarte Tatin is traditionally started with buttery, sugared caramel sauce in the bottom of a heavy, stove-to-oven, pan. In this recipe, Weston substituted honey for the caramel sauce. Apple slices begin their cooking process on top of the stove, are covered with a sheet of  puff pastry then baked in the oven. The tricky part is flipping the heavy pan over onto a platter or cookie sheet for serving when it is done. Weston flipped those pans like the pro that she is. The honey version of this tarte was lighter than the traditional, and although the sugar mixture is stickier, therefore holding the tarte together better, this one was mighty tasty. To gild this lily, Weston served a scoop of locally sourced ginger ice cream. A perfect accompaniment.
You can sign up for a cooking class, choose to participate or just view the progress of those who do. Sipping wine is, of course, optional. This is dinner and a show for those who love a gourmet kitchen experience. Like reserving a place at the chef's table in the kitchen of a restaurant, Taste and Technique gives you the chance to talk about food, watch it's preparation, and then enjoy a delicious meal. Rachel Weston met her first challenge at this new-to-her venue with grace, style and obvious experience. It was a terrific evening.