On a Monday night when many restaurants are closed, Chef Anthony Ferrando's Dish, a neighborhood gem of an eatery was taken over by Chef Dan Dalessio and Nicolas Estephan of FIG NJ Catering.
Posted on facebook, the mouthwatering menu options caught my eye, but it was the asterisk at the bottom of the page that sent  fingers flying on my phone to reserve a table. *everything is gluten-free! Intrigued to begin with, I didn't have to do the "gluten-free math," so to speak. The rearranging of a menu — where every person who has food allergies quietly crosses off all offensive items. The struggle is my reality and I sympathize with all who have to deal with this issue.
Not a large menu, but impressive choices  with provocative ingredients gave us plenty to chew on while we made our selections. Since there were 4 of us at the table we decided to order and share all of the small plate options from the menu.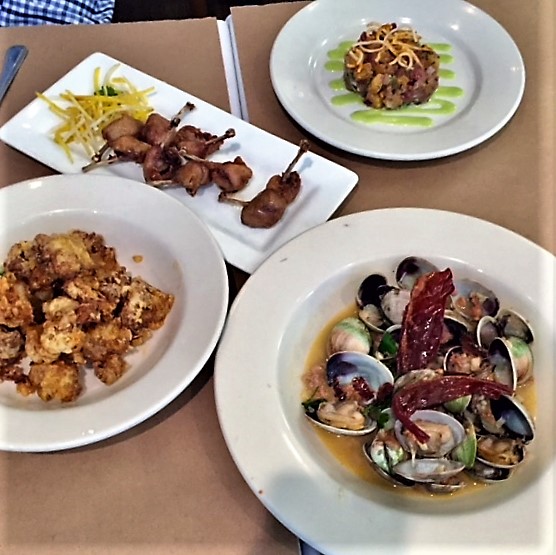 Quail lollipops are just an adorable concept. These came out tender and juicy but I so wanted a perky dipping sauce to swoosh the tiny hand-held legs into.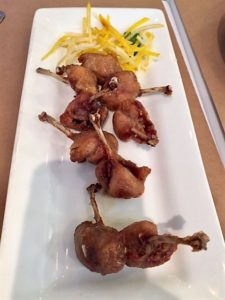 Everyone at the table went wild for the Kentucky fried cauliflower. We would have happily plowed through a second order if not for the other items that were already before us. Delightfully crunchy outside with a soft interior and a hint of Piri Piri hot sauce it was a favorite of the night.
In a heartbeat we'd order the Manila clams again. Sprinkled with tiny bites of chorizo, the garlic and shallot infused broth was scrumptious.  It was the wafer-thin speck chips that had us all talking at once. Beautifully executed, we were impressed with this dish.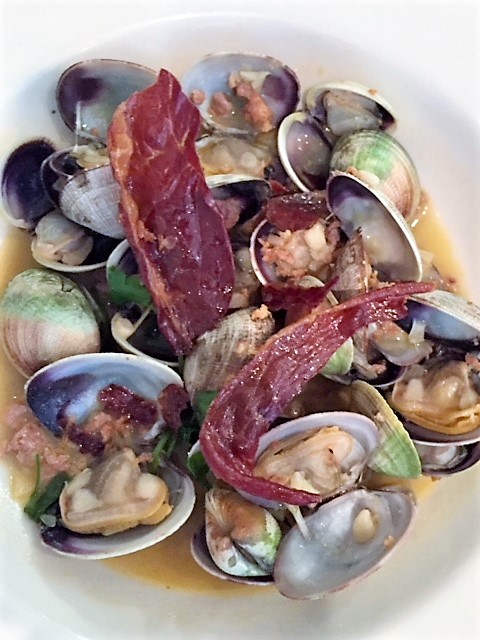 We also tried the tuna tartare. It was an unusual combination of charred and diced pineapple and tuna. I loved the addition of crispy rice noodles adding depth and texture.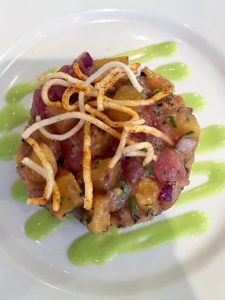 Four of the five big plates also made it to our table. Wagyu hanger steak was the hands-down winner. Perfect medium-rare slices of beef in a madeira reduction were offset by a nice-big portion of curiously named Japanese potato au gratin. I'm not sure what the Asian part of the dish was but the potato, sweet potato and cheese layers are what we want to eat every week. Fattening? Maybe, but wow this was a memorable dish in every good way possible. I don't care how sophisticated your taste buds are, this is comfort food with a capital C and we couldn't get enough of it.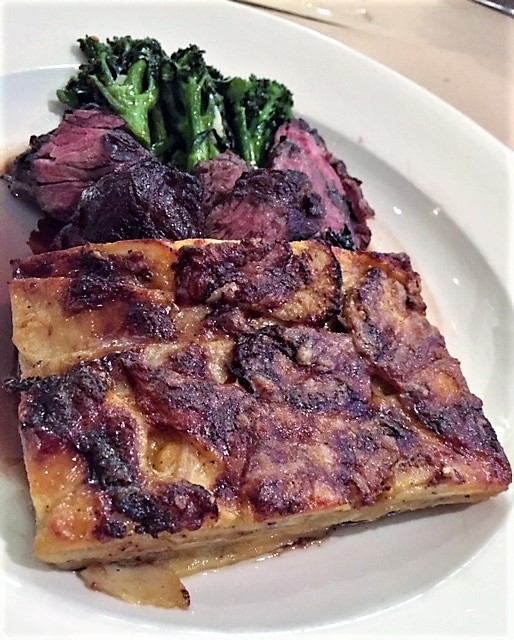 Magret duck seared to a nice rare finish was served over flat rice noodles in Udon-fashion (Udon noodles are made from wheat as a rule). The chipotle bone broth and braised shitake mushrooms were delicious.  I would have loved a bowl of the broth separate from the duck to catch every bit in a spoon. Put together, it was a little awkward to eat the slices of meat with the noodles and the broth became lost underneath.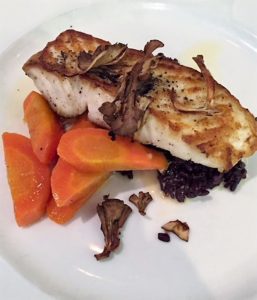 A roasted organic chicken breast served with leek infused mashed potatoes and seasonal roasted asparagus was inhaled before I had a taste. Clearly, it was liked — a lot. Crunchy maitake mushrooms performed as an earthy base for a well seasoned if slightly dry piece of halibut. There's a good chance that the fish came out of the kitchen with an absolutely faultless finish and it's on us that in the time it took to photograph this gorgeous piece of fish it became a little dry.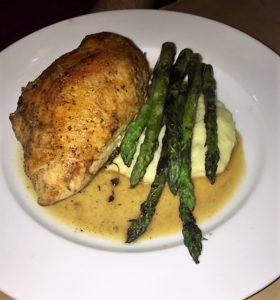 Whispers of new plans for Dan and Nick are buzzing in the atmosphere right now. Any time these two chefs put their heads and knives together though, you can bet something good is on the horizon.